If you're a Boston Celtics fan or a basketball enthusiast, you may have noticed that Jaylen Brown is sporting a mask. No, he's not trying to look like a superhero or a ninja.
Unfortunately, Jaylen suffered an injury last month while playing against the Philadelphia 76ers. Jaylen's face was fractured, and he had to leave the game. Ouch!
But why is he still wearing it? And will he continue wearing it?
Who is Jaylen Brown?
Now that we've talked about the mask let's talk about the man behind it. Jaylen Brown is a 26-year-old basketball superstar who was drafted by the Boston Celtics in 2016.
Before he became an NBA player, Jaylen was already making waves in high school and college basketball. He won multiple awards and was recognized as one of the top recruits in the country.
Since joining the Celtics, Jaylen has continued to excel on and off the court. He was named to the NBA All-Rookie Team in 2017 and won the NBA Community Assist Award in 2020. He's also known for his activism and social justice work.
Why Do Some NBA Players Wear a Mask?
Let's be honest, masks aren't just for superheroes anymore. Nowadays, NBA players like Jaylen Brown have started to rock protective masks while playing. But why?
Some players wear masks to protect themselves from future injuries. You see, getting hit in the face with a basketball is no joke. It can lead to all sorts of nasty injuries, from cuts to broken bones. And let's not forget about the permanent damage that can be done to your beautiful face!
Apart from protecting themselves from injuries, players wear masks because they're recovering from an injury. In fact, many players have worn masks in the past, like LeBron James, Kobe Bryant, and Richard Hamilton. These players must wear masks to protect their still-healing faces from further damage.
What Masks Do NBA Players Wear?
If you've ever seen an NBA player wearing a mask, you may have noticed that it looks a little different from the face masks you've been wearing during the pandemic.
First, let's clarify that these masks aren't just any regular face mask you can buy at the store. These masks are specially designed to protect the player's face from injuries while still allowing them to see and breathe.
The masks are designed to be as lightweight and comfortable as possible while still providing maximum protection. They're also fitted with cushioning on the inside to prevent the mask from rubbing against the player's face and causing irritation.
There are a few different types of masks that NBA players can wear. One type is a clear plastic mask that covers the nose and mouth. This is the type of mask that Jaylen Brown is wearing. It's designed to protect his face while still allowing him to see and breathe normally.
Another type of mask is a black mask that covers the entire face. This mask is often worn by players who have suffered a broken nose or other facial injuries.
Even then, masks can be a difficult thing while playing.
As JB discussed it with MassLive, "I know it looks cool, but sometimes it's hard to breathe."
Why Does Jaylen Brown Have a Face Mask?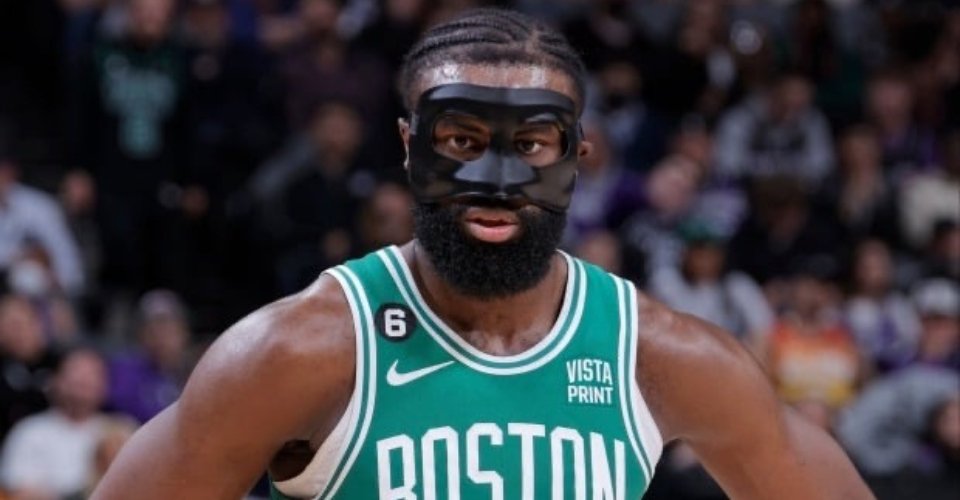 Now, let's get back to our main question: Why does Jaylen Brown wear a mask?
Well, as we mentioned earlier, Jaylen suffered a facial fracture during a game against the Philadelphia 76ers back in February while trying to shoot a three-pointer. His fellow athlete, Jayson Tatum, accidentally hit him in the face while going for a rebound. His doctors ordered him to wear a protective mask while recovering.
Jaylen's mask covers the entire upper half of his face and forehead, which may look a little intimidating on the court. But hey, who said intimidating was a bad thing?
Jaylen's injury wasn't just a bump or bruise; it was a serious fracture that needed time to heal.
While talking to NBC Sports Boston, he stated, "It can take up to twelve weeks for the injury to fully heal, and even then, it's still a good idea to wear the mask for extra protection."
So, even though Jaylen may be close to the twelve-week mark, he plans to continue wearing the mask. Why? Because his mom said so! And if mom says you need to wear a mask to protect yourself, you do it.
"My mom wants me to keep wearing it," @tvabby asks JB if the mask is here to stay. They talk about Celtics' defensive pressure and the level Jaylen has been playing right now". Jaylen told NBC Sports.
And who knows, maybe wearing a mask will become the latest trend in NBA fashion. After all, who doesn't love a good superhero look? What do you think? Share your thoughts in the comments below.
Are you always on the lookout for the latest news and hot topics in the world of sports? Head on over to avergaebaing.com to get your daily dose of sports news and updates.