The Citi Bike incident unfolds way more layers of our perception as new information is revealed from healthcare professional Sarah Jane Comrie and the Boy in question, Micheal.
Twitteratti went berserk when a video was uploaded on May 12th showing the first phase of the incident. The video has since racked up 40 million views and a myriad of opinions. Here's the complete timeline of the Citi Bike incident:
How Did the Citi Bike Incident Start?
First Account of the Incident:
The video starts with a distressed woman yelling for help at Citi Bike's docking station.
She is seen grabbing a bike with another black male already handling the bike. Soon we see a dispute between the two over the bike.
Since it is a docking station, people are already standing there with their bikes. (note this point for later).
She asks the man to get off the bike, claiming that her fetus will get hurt– confirming that she is pregnant. She is also seen snatching the phone from his hands.
Apart from the person recording the video, a couple more people are seen in the video who try to diffuse the situation. We see an emotional Sarah crying. Then her colleague tries to reason with this situation and asks the black man to reset the bike.
In the next frame, Sarah suddenly stops crying. We can also hear more than one voice along the black man, thus implying that a group of friends accompanied him. (note this as well).
The video ends with Sarah getting off the bike.
What Happened to Sarah Jane Comrie?
People started drawing conclusions from the video, and the majority deemed Sarah Jane Comrie as another Karen.
Here's the reasoning behind the immediate inference from the video–
According to the netizens, Comrie yelling for help at the start of the video implied that the black man involved was hurting her. This irked people perceiving it as yet another case of suggesting false allegations.
The next point was the abrupt crying that gave the impression to the public that she was performing for the video.
People also noticed that she could have picked up any other bike from the station. And also pointed out that she could easily prove it was her bike by showing receipts.
As a result, she was Twitter-declared as "Citi Bike Karen."
(All these inferences were taken after watching the video.)
Soon a wave hit Comrie, with netizens pulling out her professional information and petitioning to get her fired from the Bellevue Hospital, where she worked as a Physician Assistant PA.
Ben Crump, an attorney specializing in Civil Rights, also advocated for George Floyd, Trayvon Martin, Ahmaud Arbery, and Breonna Taylor. He weighed in on this situation with his statement–
"This is unacceptable! A white woman was caught on camera attempting to STEAL a Citi Bike from a young Black man in NYC. She grossly tried to weaponize her tears to paint this man as a threat. This is EXACTLY the type of behavior that has endangered so many Black men in the past!"
This statement garnered more traction because of the racial prejudice aspect. Thus began the unofficial social media trials of Sarah Jane Comrie and the questioning of her integrity as a healthcare professional.
Statement From Sarah Jane Comrie's Lawyer
Comrie's days flipped upside down with constant doxxing and harassing comments on social media. Bellevue Hospital even put her on immediate "leave," citing this official statement–
Sarah is a dedicated employee at the Bellevue Hospital and was actively frontline during Covid Pandemic. She is also six months pregnant:
This is a crucial factor in the video's reason for her crying. She could have been exhausted from her 12-hour shift and stressed that the confrontation could hurt her baby.
A couple of days later, Sarah Jane Comrie's lawyer, Justin Marino, issued a statement for her side of the story–
"Here are the facts: On May 12th my client finished her roughly 12-hour shift and approached the Citi Bike station so she could head home. She went to an available bike, which no individuals were on or touching, mounted it and paid for it via the Citi Bike app on her phone. She then backed it up after it was released from the docking station."
"During this time, a group of about five individuals approached her, saying that the bike was theirs. One or more individuals in that group physically pushed her bike (with her on it) back into the docking station, causing it to re-lock. … In short, my client arrived on a vacant bike, mounted the bike, paid for the bike, and was prevented from leaving."
After this statement, the tides slowly turned in Comrie's favor. NYPost expanded on this news, which showed that Sarah indeed had receipts.
However, a prominent journalist reported the fallacies in the claim and the receipt–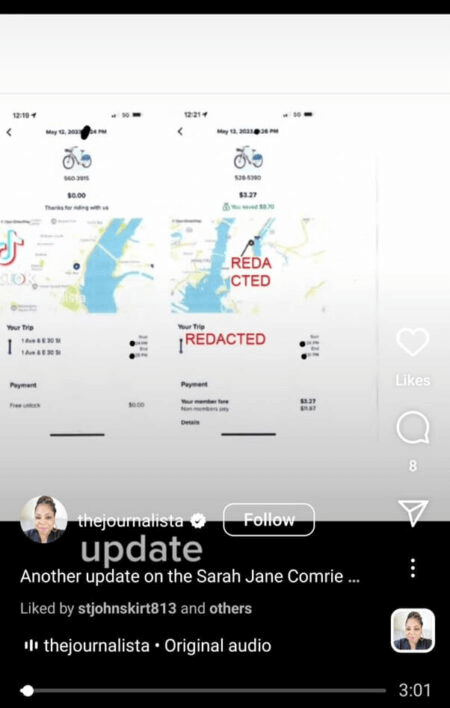 She pointed out that crucial information was redacted. And also, the critical reasoning is that she could have just shown the receipts and claimed her bike then and there instead of creating a scene.
To which some people argued that Sarah, as a pregnant woman, was surrounded by a bunch of black men. She could have been trying to secure herself first by asking for help. There could have been many possible scenarios before the video was recorded. And she did not deserve the mass hate for this.
Another point to be noted is that a woman's aggression is always labeled negatively ("Karen" in this case), not knowing her circumstances. Whereas a man displaying aggression is seen as "standing his ground."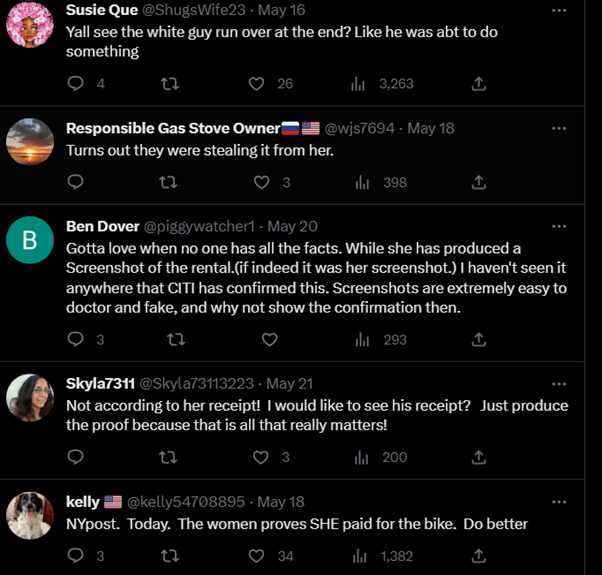 Nevertheless, Sarah soon received support from a section of people (conservatives) who claimed that she was actually the victim of bike theft from a group of black men. A GoFundMe page was set up for her mounting legal fees, with over $120000 donated till now.
Fox News reported that Ben Crump has since deleted his viral tweet about the pregnant woman stealing the bike from the black man. Media soon started turning the narrative after the new information.
And thus began the unofficial trials of the unidentified black man…
What Happened to the Black Man in the Citi Bike Video?
If you notice, throughout the article, he is referred to as a black man. Nowhere in the counter-argument were his statements included. After Marino's statement, median churned a smear campaign that the men in the video were "black thugs" who bullied and threatened Comrie. Now the headline turned into– "A group of black men stole a pregnant woman's bike."
Social media was again filled with prejudices and racial profiling, implying that he must be a "thug," considering he is Black.
New Information From the Boy's Side in The Citi Bike Incident
As of May 24, the black man has been finally identified. His family finally got to tell his side of the story–
Michael is a 17-year-old senior in Highschool. His sister, Mary, and mother, Betty, stand beside him. They are immigrants from West Africa and were struggling to make ends meet. Michael is part of a group, Citi Bike Angels, that rewards people who have accumulated a certain amount of points.
Here are the key takeaways from the interview:
Michael and his friends were traveling from the Bronx to Harlem.
He gets a discount on Citi Bike rides but after 45 mins, the rate on the bike increases.
Redocking the bike allows him to reset the timer again to 45 mins so that he can enjoy the discounted price.
They did not want to leave their bikes unattended, so the three of his friends sat on their bikes while Michael stood beside his bike, still holding its handles.
Sarah then approached the boys and asked if she could have the bike, to which they politely declined.
She finally approached Michael, who declined as well, considering his situation.
But Sarah scanned the QR code anyways. After which, the incident was recorded.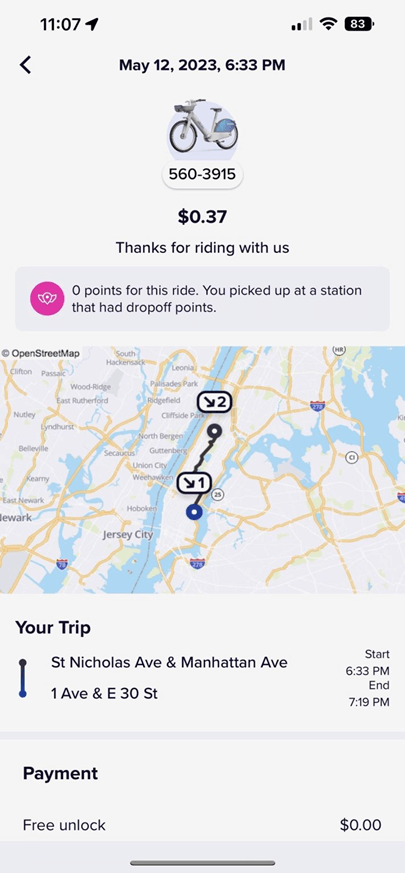 Here is Michael's sister explaining how her brother possessed the bike first–
Michael's recount of the situation contradicts Marino's statement: five black men approached Sarah. However, Sarah has decided not to press charges against Michael.
Here is a tweet explaining the timeline–
Passing the baton to you–
What do you think of the case after both sides presented their story?
Do you think Sarah is racist, or was she exhausted from her shift and frustrated that she couldn't get an e-bike?
What do you think about the media's racial profiling of Micahel? Do you think both the parties blew the situation out of proportion?
Let us know your thoughts in the comment section below.
Source: NewsOne