The Misfit of Demon King Academy Second Season Announced at Aniplex Online Fest 2022!
The hit show featuring the overpowered demon lord, Anos Voldigoad will return in a few months. At the Aniplex Online Fest in Yokohama, developments associated with the new season were discussed amongst the hosts.
A new trailer was released as well. Yuichiro Umehara replaced Tatsuhisa Suzuki as the main Voice Actor after the latter was involved in a scandal that highlighted his extramarital affair while being married to popstar LiSA (known for Gurenge in Kimestsu no Yaiba). This led to Tatsuhisa having to step back from various roles. However, he is still going to voice Makoto Tachibana in Free!
This is the trailer played at Aniplex Online Fest 2022 for the fans present in the arena and those who tuned in via YouTube. Have a look.
Here's the new key visual.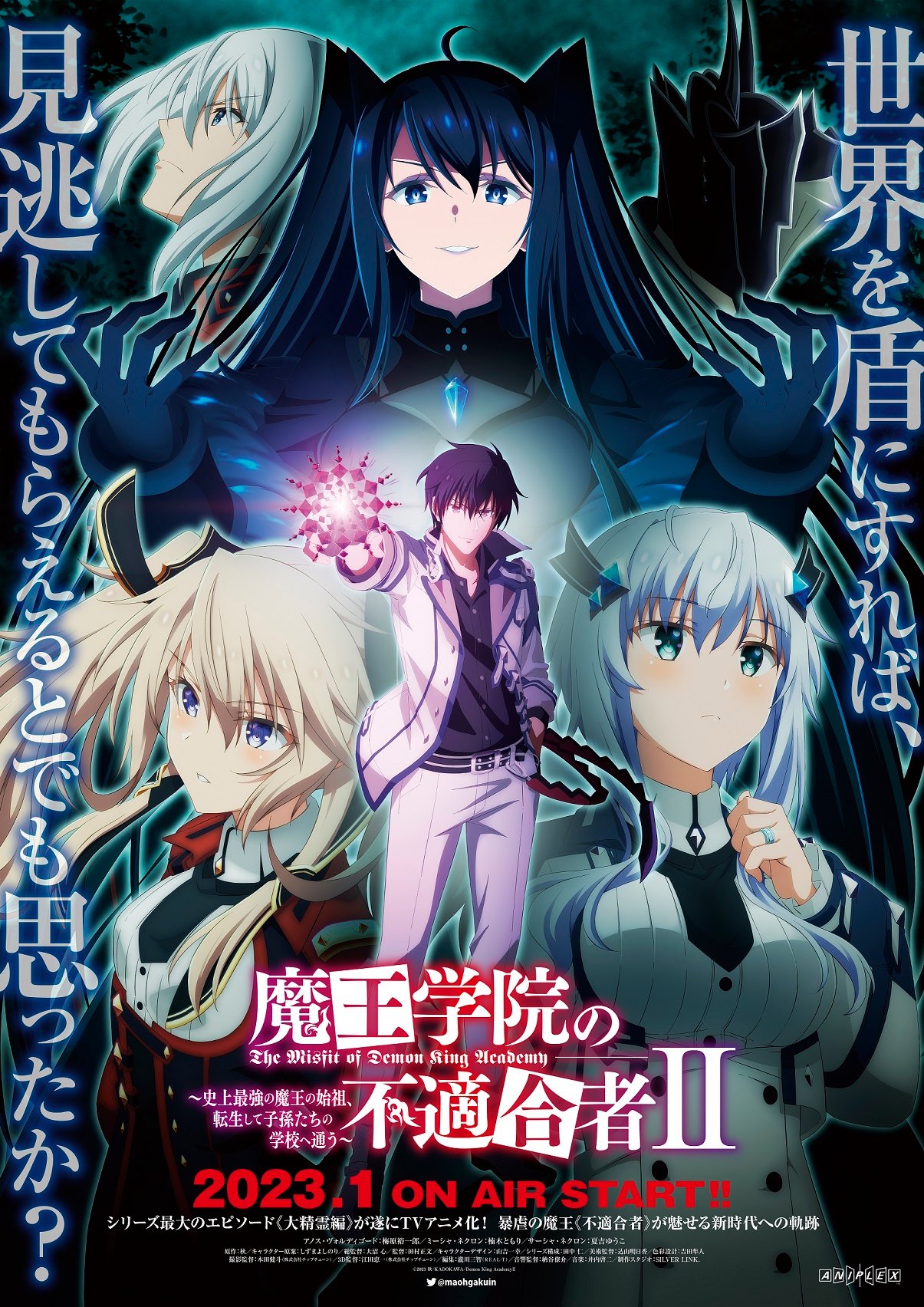 Not much is shown in the trailer apart from glimpses of certain characters. The central trio (comprising Anos, Misha, and Sasha) mostly fills up the frames. The series will be divided into two parts to bring in great animation and less pressure on the artists and writers.
Fans have spoken about the difference between the leading VAs. Yuichiro Umehara's voice as Anos has a deeper, foreboding tone that aptly suits the demon lord, whereas Tatsuhisa highlights his carefree and confident attitude more. Nevertheless, I think the show will keep garnering fans as soon as the anime releases in 2023.
Japanese Voice Cast
Yuichiro Umehara as Anos Voldigoad, the reincarnated Demon King
Tomori Kusunoki as the friendly Misha Necron
Yuko Natsuyoshi as the fiery Sasha Necron
Takuma Terashima as Lay Glanzudlii
Nene Hieda as Misa Ilioroagu
Sayuni Watabe as Eleonore Bianca
Misaki Kuno as Zeshia Bianca
Main Staff
Light Novel Creators: Shu and Yoshinori Shizuma
Chief Director: Shin Oonuma (known for Berserk, Rakudai Kishi no Cavalry, Bakemonogatari)
Director: Masafumi Tamura (known for Akame Ga KILL!, Durarara!!, Bleach the Movie: Fade to Black)
Character Designer: Kazayuki Yamayoshi (known for Devil May Cry, Fairy Tail, Infinite Stratos)
Series Configuration/ Screenplay: Jin Tanaka (known for BNA: Brand New Animal, Date A Live, Tokyo Ghoul)
Art Director: Koriyama Asuka
Color Designer: Hayato Yoshida
Cinematographer: Kento Kid
3D Director: Keiichi Ida
Sound Director: Ryosuke Naya
Music: Keiji Inai
Studio: SILVER LINK (Known for Kokoro Connect, Bofuri, Masamune-kun's Revenge R)
Misfit of Demon King Academy
Anos Voldigoad and the honorable hero Kanon vow to make peace after thousands of years of conflict ravaging the land. Anos is reincarnated 2000 years from the time of his death as a hybrid demon in a grotesque classist society with dwindling magical power. Brimming with raw potential and a cocky outlook, Anos keeps moving towards his goal of becoming the Demon King, but his journey through the Academy is fraught with troubles. To date, 12 volumes of the light novels have been compiled over four years; it is currently ongoing.
What is your opinion on Anos's new demeanor? Is it menacing, and does that suit his personality? Do you think the Demon King will come across worthy enemies this time, or will his obstacles continue to be weak? Be frank and hit us up with your many thoughts on the new teaser trailer and the PVs.