We all know Artificial Intelligence (AI) is a rapidly advancing technology changing the world in many ways. (Enter evil ChatGPT vibes…)
With AI technology increasing, people are beginning to wonder whether AI will eventually take over their jobs and their lives. Our study, which analyzed Google search data from November 30, 2022 (when OpenAI released ChatGPT), to April 4, 2023, sheds light on which countries fear AI the most.
Also, Do you know what's scary? AI snatching our jobs!
Yeah, machines are already starting to take over some industries, and who knows what'll happen next?
The phenomenon of job automation and AI disruption has been a growing concern in recent years. For instance, AI-driven chatbots have already substituted customer service representatives in some companies.
According to our study conducted by analyzing Google search data, the country that fears AI taking over jobs, the most is "Canada."
Searches for 'will ai take over' increased by 298% during this time period. Whereas, Online searches for 'will ai take over the world' spiked by 732.2%, but the most significant spike was for the phrase 'will ai take over jobs,' with searches increasing by a staggering 942.75%. This search phrase became the focus of our study, and we identified the top five countries that searched for it the most.
Canada tops the list, with a search interest percentage of 100, indicating that every internet user in Canada who searched for the phrase 'will AI take over jobs' during the period of our study. The United States comes in second, with an 89% search interest percentage, followed by Australia with 73%. The United Kingdom and India complete the list, with search interest percentages of 68% and 27%, respectively.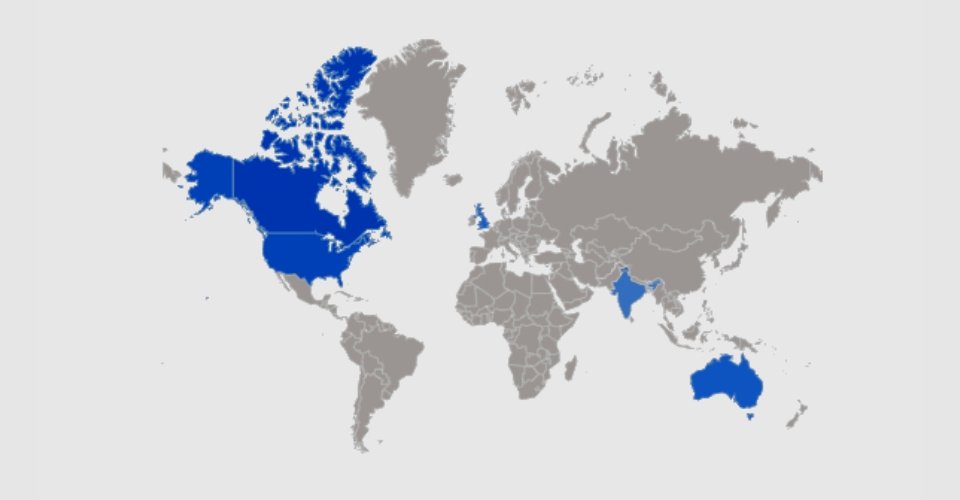 | | |
| --- | --- |
| Country | Search Interest (%) |
| Canada | 100 |
| United States | 89 |
| Australia | 73 |
| United Kingdom | 68 |
| India | 27 |
Well, Canadians are the most afraid of AI taking over jobs. That's pretty intense, don't you think?
It's interesting to note that the top four countries on the list are all developed nations with advanced technological infrastructures. Canada, the US, Australia and the UK are all known for their innovative and progressive tech industries, which may explain why people in these countries are more concerned about the impact of AI on their jobs.

On the other hand, India, which is also rapidly growing in the tech industry, is relatively less concerned, with a lower search interest percentage of 27%.

A spokesperson from averagebeing commented
In 2017, Canada became the first country to release a national AI strategy. Around $443.8 million has been earmarked over ten years to advance research and innovation by the Canadian Institute for Advanced Research. The funding has been allocated to leading AI research institutes such as Amii, Mila, and the Vector Institute, among others.
Another factor contributing to the fear of AI is the portrayal of AI in popular media. Science fiction movies and TV shows often depict AI as an evil force that seeks to dominate humanity.
While this is not necessarily an accurate portrayal of AI, it does contribute to a sense of unease and uncertainty about the technology's future. The time has come; notwithstanding the potential benefits of AI and automation, the widespread concerns of individuals regarding their impact on employment cannot be ignored.
Some policies to tackle the AI job crisis!
We must figure out how to help folks who are worried about losing their jobs. To this end, developing training programs that enable the reskilling and upskilling of workers is a viable option.
Additionally, policymakers could consider enacting approaches that incentivize companies that invest in employee training and development initiatives. This would equip workers with the skills required to meet the demands of the evolving job market, thereby augmenting their employability.
For example, AI-powered tools could assist doctors in diagnosing and treating patients rather than replacing them altogether. Similarly, in the manufacturing sector, robots could work alongside humans, performing tasks that are too dangerous or repetitive for humans to carry out.
Governments and organizations can also work together to create new task possibilities in areas where AI isn't always likely to replace human employees anytime soon.
For instance, healthcare, training, and social services jobs require a human touch and are much less likely to get replaced via AI. Furthermore, careers within the creative fields, which include artwork and music, require human creativity and can't be changed through AI. These are all original pieces of art, not some scrapped skill.
It's crucial to be aware that the impact of AI on employment is not equal throughout all countries. A few international locations can be more prone to losing jobs because of the character of their economic system or the extent of schooling and education in their workers. In such situations, governments can be critical in ensuring citizens are organized for the changing activity marketplace.
The worry of AI taking over jobs is a growing subject, with Canada being the country that fears AI the maximum in this regard. With the proper approach, we will harness the energy of AI to create a better future for all. There is no other way around it.
Overall, our study provides valuable insights into the countries that are most concerned about the impact of AI on their jobs. As AI continues to develop and become more integrated into our daily lives, it is essential to address these concerns and ensure that the benefits of this technology are realized while minimizing its potential negative impact.