Boku no Hero Academia is one of the most popular superhero mangas in the market right now. Weekly Shonen Jump has been serializing this work by Kohei Horikoshi since 2014. Both the manga and the anime are critically-acclaimed and have received numerous awards since their inception. There have been a few controversies linked with the manga too.
The makers just released a new character visual consisting of Shigaraki Tomura and Dabi. We can spot the iconic pose Dabi makes in the manga but more about it later.
Spoiler Alert (Revelations About Dabi)
Dabi's real identity is Toya Todoroki. The eldest son of Pro Hero Endeavor hates Enji Todoroki with a searing passion. The charred man is resentful of how his father raised him and hoped to pay him back by sulking his name. As Dabi, Toya was associated with the League of Villains and is currently one of the most formidable associates in the Paranormal Liberation Front. His character arc is similar to that of Shigaraki Tomura, as they both had a tough upbringing due to a single antagonistic parent.
Toya is presumed dead by his family and the rest who knew of him. Endeavor started training Shoto as his chosen successor, pushing Dabi towards the precipice of sanity until he finally broke. When his flames completely consume his mind, Toya adopts Dabi's persona. As a villain, he is shown to be planned and organized, but he also has destructive tendencies and hates what heroes represent.
While Tomura is shown to be capable of compassion, Dabi is willing to do whatever it takes to exact his revenge against Endeavor. He detests his family due to his childhood being filled with rejection, pain, and suffering. He does care about the lives of innocents who are casualties of the war between heroes and villains.
After battling his father, Toya explains to Shoto, his younger brother, that he fully intends to sacrifice his life and all those who matter to him, as that would solidify the point he's trying to make.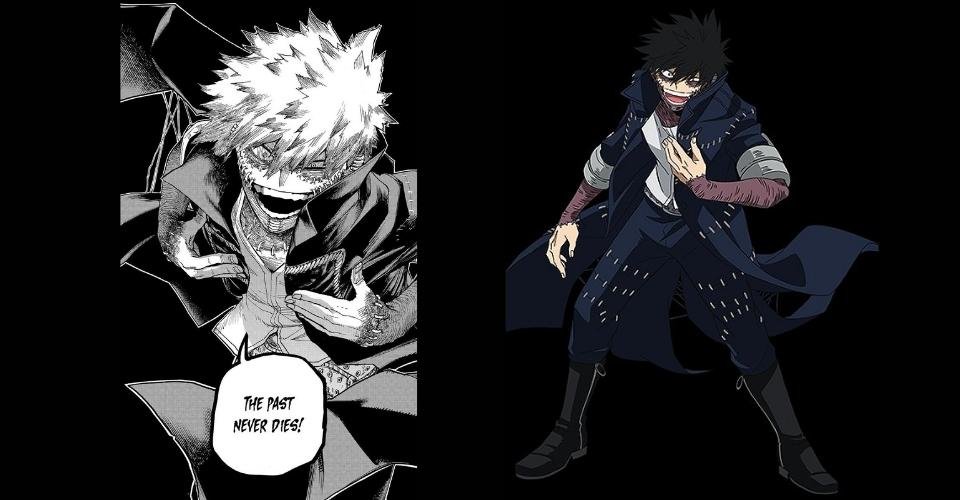 You can check out the signature pose he strikes in the manga whilst saying, "The Past Never Dies." The animators have done a phenomenal job channeling his madness onscreen, and we are in for a treat.
Superpower Anime: The Ultimate Guide For Power Loving Otakus

Fans Also Read
Hiro Shimono voices the detached and sociopathic villain in My Hero Academia. A recent radio program shall announce the view of the various antagonists, namely Shigaraki (quirk: All for One after medical procedure) and Dabi (quirk: Blueflame). The 6th season will focus on the battle involving the infamous Paranormal Liberation Front as they face off against the young and experienced heroes.
The release date for Season 6 of My Hero Academia stands on October 1st this year. Only 12 days are left, and then we shall see the fury of Dabi's flames alongside Todoroki's rage.
So folks, how's the hype? Will you be watching the next season that is licensed by Crunchyroll and Medialink? Have you forgiven Endeavor post his redemption arc despite all the crimes he committed against his family in search of greater glory? Let us know your earnest feelings about this below.