You might remember Jeremy Renner as Hawkeye from Avengers, the most neglected hero in the Marvel movies. Yet, this man's will to live and jaw-dropping story have proven him worthy of being called a real-life superhero.
January 1, the day when most people are busy celebrating a new year, Jeremy Renner was fighting for his very life. In an interview by Diane Sawyer, the actor detailed how a 14k pound Sno-Cat ran over him in an attempt to save his nephew, Alex.
The nephew and uncle duo were trying to tow a Ford Raptor with Renner's snow plow. The plow was sliding on the snow, endangering Alex. Renner neglected the parking brake and fell out of the vehicle as he struck one foot out of the vehicle to look at Alex.
The devastating result was 30 broken bones, a sea of blood, and a near-death experience. Barb Fletcher, the first guy to help Renner, described the horrific scene as "I wouldn't take my eyes off of him because I didn't want him to drift off." Fletcher's partner added, "It was the blood, the amount of blood; he was just in so much pain and the sounds that were coming out of him…"
Jeremy Renner's First Appearance After Accident
The Avengers actor was interviewed in Jeremy Renner: The Diane Sawyer Interview – A Story of Terror, Survival and Triumph' which aired on ABC. The video shows Diane shocked at the happy atmosphere in the Renner household as the patient himself tries to sway to the blasting music.
Following the broadcast, searches for 'jeremy renner interview' increased by 1116.32% worldwide. The search for 'what channel is abc' also spiked by 2043.81% in the U.S. Even the interviewer, 'abc diane sawyer' saw a 1148.28% increase in the U.S.
In the interview, the actor admitted to his own mistake in the accident and opened up about what he thought when he was injured. He did not want an existence of just a brain and spinal cord, that's for sure.
His first public appearance is going to be on April 12 on Rennervations. Rennervations is a documentary mini-series with four episodes that will be released on Disney+.
How Jeremy's Interview Sparked Interest In His Movies & Shows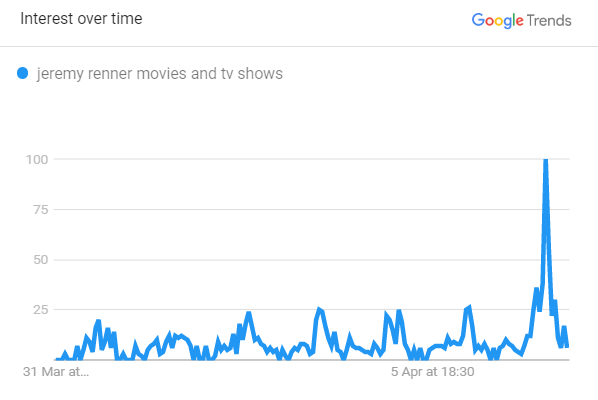 Just like how searches for his interview and the ABC channel spiked, a similar effect occurred to Renner's movies and series.
Right after the interview, fans began looking for the actor's projects as searches for 'jeremy renner movies and tv shows' skyrocketed by 1081.45% worldwide.
Below are listed the top regions where the actor's movies and tv shows are trending:
| | |
| --- | --- |
| Country | Search Interest (%) |
| U.S. | 100 |
| Australia | 14 |
| Canada | 14 |
| U.K. | 8 |
| India | 4 |
As the search results suggest, Renner's accident has rekindled fans' interest in his filmography. While it is reasonable for the actor to want more rest, the whole world is watching his next move.
His heroic attempt to save his nephew and the heart-rending tale of his survival turned innumerable heads, and his next career decision will most certainly be of interest to fans.
So, are you rewatching Renner's movies? Or are you ready to book the tickets to his next show?