One of the most loved manga, Hunter x Hunter returns after a prolonged period of hiatus!
Yoshihiro Togashi's magnum opus will soon have a brand-new volume. The manga is being serialized in Weekly Shonen Jump and shall resume on the same platform from October 24th JST.
After November 2018, no new chapters of Hunter x Hunter have been unveiled. This led to all fans waiting patiently for Togashi-sensei's recovery. Following the massive success of Yu Yu Hakusho, sensei established a new contract with Jump that lets him work at his chosen pace.
This was crucial as he had several health concerns, primarily due to his chronic back problems. Yoshihiro Togashi has been making periodic updates via his Twitter account about the progress associated with the upcoming volume.
He shared this particular image when there were seven episodes left to work on.
As you can see, the Master has been busy with his work and isn't planning on quitting anytime soon. In May this year, Togashi had stated that he was done with rough drafts for a little less than a dozen chapters. Though the series has been serialized irregularly, the dedicated fanbase has always stayed loyal to the mangaka and keeps motivating him on social media.
Hunter x Hunter Volume 37 Cover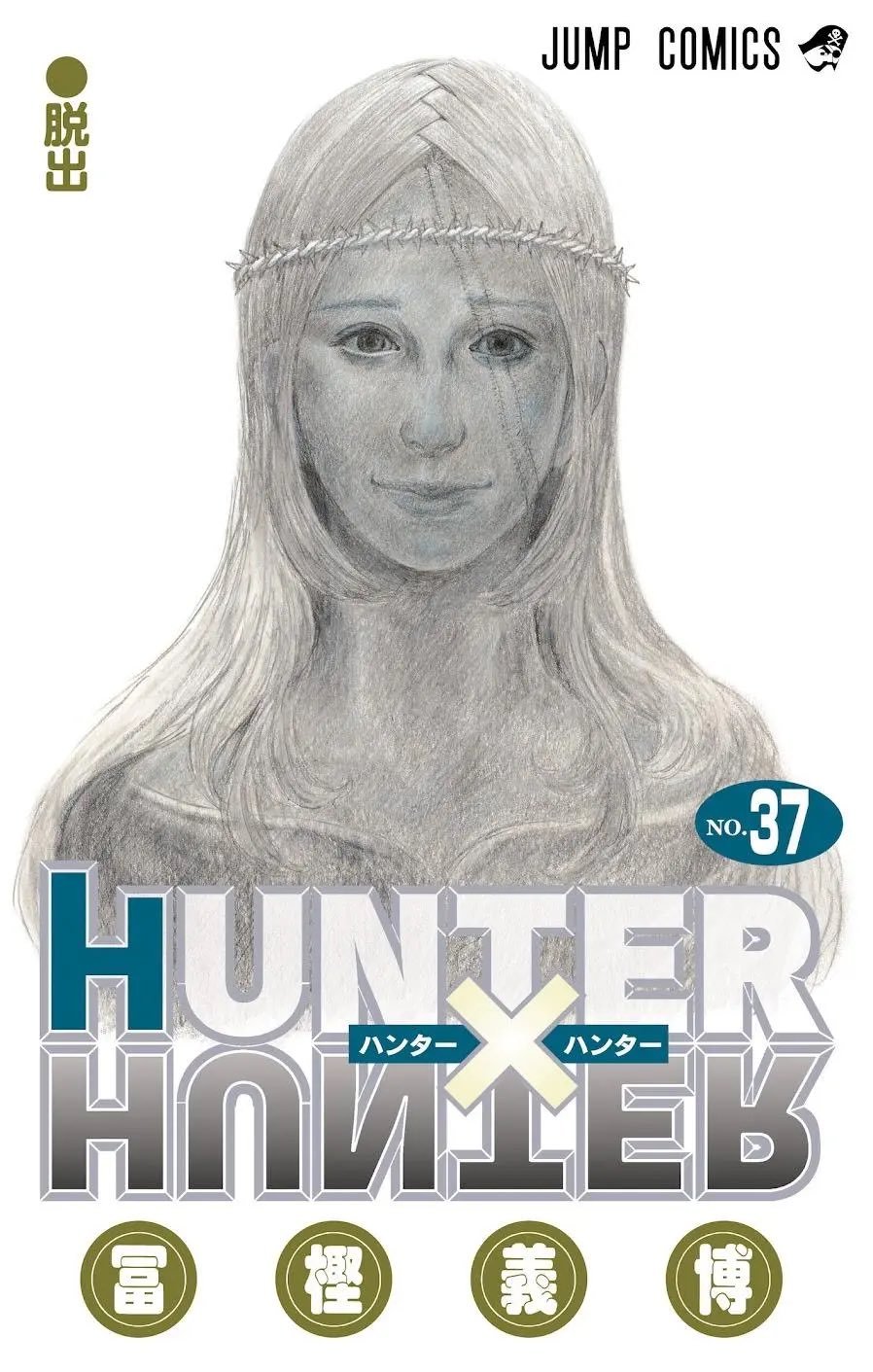 VIZ Media has confirmed that the series will simultaneously be released with the English translation on the Shonen Jump app. The cover of the new volume 37 features the crime boss named Morena Prudo. She is blessed with a level-up ability that makes her immensely strong. Morena wears a crown of thorns and is sketched in grey on the cover page. This may be a symbol of her lying somewhere between good and evil. It will be interesting to see how her character arc turns out and how it will differ from the Ant King.
Do read the manga from official sources to know more about this lady and her hatred for this wretched world.
Hunter x Hunter
A series that chronicles the life of Gon Freecs as he sets out to become an accomplished hunter to look for his absentee father, Ging. He gains many allies like Killua Zoldyck (an assassin), Leorio Paradinight (a doctor), and Kurapika of the Kurta tribe. As he overcomes the Hunter's exam, Gon faces all sorts of enemies, such as Hisoka Morrow, Chrollo Lucifer, Meruem, and more. The manga began serializing in Weekly Shonen Jump in 1998 and has racked up 36 volumes till now. It is one of the finest shonen mangas in recorded history.
The series' popularity spurred a movie (a Pierrot film directed by Noriyuki Abe) and two anime (a Nippon Animation production directed by Kazuhiro Furuhashi and a Madhouse production led by Hiroshi Koujina). A little less than 85 million copies have been in circulation since the inception of the manga.
Are you excited about the return of one of the best shonen mangas in the market? Do you think we'll see a short anime focusing on the Greed Island Arc in the future? Let us know how you feel about the latest development.