As the Marvel Cinematic Universe wraps up another chapter with Guardians of the Galaxy Vol. 3, fans have been left wondering what will be the ending and what characters might not make it out alive. This article will be breaking down the movie's ending, deaths, and spoilers, so get ready for an epic ride.
It has been confirmed that at least a couple of characters will die, so who will it be? Will our favorite heroes survive? Who will bite the dust? Rocket, Groot, Quill or Drax? The suspense is too much!
Let's take a closer look at what we know so far.
Rocket Raccoon: The Emotional Center of the Film
Hold on to your seats, folks, because Guardians of the Galaxy Vol. 3 is about to take us on a wild ride with none other than the fan-favorite Rocket Raccoon!
The third installment of the Guardians franchise is set to put the spotlight on our furry little friend, and we can't wait to see what he has in store for us. With his quick wit and sarcastic humor, Rocket has undoubtedly become one of the most beloved characters in the entire Marvel Cinematic Universe.
In the trailer, we see Peter Quill (aka Starlord) crying out in agony, hinting at a potentially emotional ending. Fans are worried that Rocket may sacrifice himself to save his friends, and given his complex history and backstory, it's definitely possible.
But don't lose hope just yet! Rocket and Groot are the two easiest and most crowd-pleasing characters for the MCU to keep going, so it's possible that Rocket might make it through the final battle.
Fans are rooting for him:
Drax's Big Moment: Will He Survive?
Dave Bautista, who plays Drax, recently announced that Guardians of the Galaxy Vol. 3 would be his last MCU movie, and his character has already had a lot of emotional moments in the franchise. So, we have to prepare ourselves for the possibility of his character's death.
Drax may have a big flashback scene where he's reunited with his supposedly dead daughter. They'll have a brief reunion before Drax bites the dust, making way for the introduction of Moondragon, another character from the comics.
But as we all know, in the world of superhero movies, happy endings are rare, and it's possible that Drax may sacrifice himself to save the other Guardians.
Multiple Deaths Are on the Horizon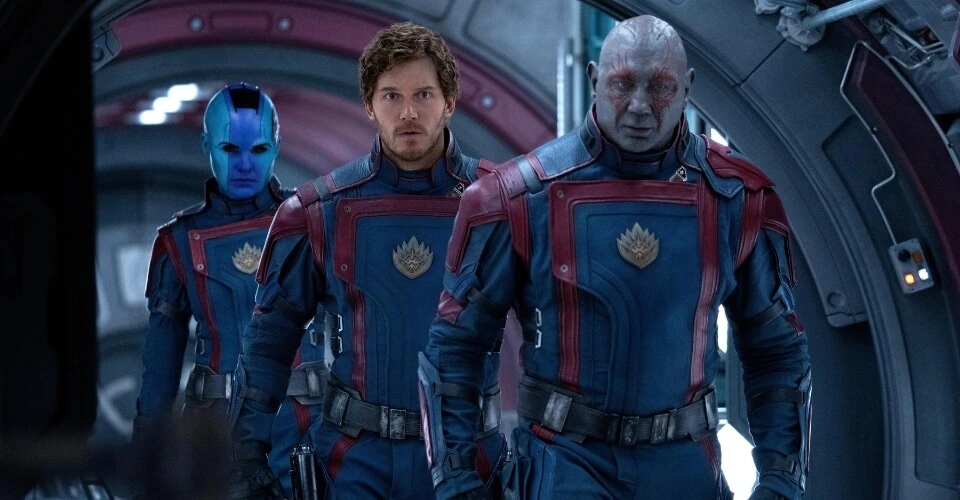 Get ready to say your tearful goodbyes, folks, because Guardians of the Galaxy Vol. 3 is going to hit us right in the feels with not just one but multiple deaths. Director James Gunn has confirmed that we should brace ourselves for some heart-wrenching moments, and we're already stocking up on tissues in preparation.
We think that Star-Lord and Rocket Raccoon might be the most likely to meet their end. However, it's also possible that it could be someone unexpected. Our guess is that it won't be a character that relies heavily on CGI, so characters like Groot might be safe.
Starlord or Drax: The Most Likely Candidates?
So, who's the most likely candidate for death? We believe it could be Starlord or Drax. Drax could retire, being the only true survivor of the original Guardians lineup. Meanwhile, Starlord's death would be a bold move and in line with Gunn's desire to change the classic superhero storylines. But regardless of who meets their end, we should prepare ourselves for a heartbreaking conclusion to the trilogy.
What About Gamora & Groot?
We already know that Gamora and Groot have "died" in the past, but they've also come back to life. The Gamora that was sacrificed in Avengers: Infinity War is gone for good, but the Gamora that arrived with Thanos from the past in Avengers: Endgame is still alive. As for Groot, he's already had a heroic sacrifice in the first Guardians movie, so it's unlikely he'll meet the same fate again.
Mantis, Nebula & Kraglin
Finally, what about the other characters? Mantis is a fan favorite, and it would be heartbreaking to see her go. Nebula has had a lot of character development, and we think she might have a happy ending with her sister Gamora. As for Kraglin, he's been a minor character so far, but he could play a bigger role in the future.
Get Ready for an Epic Conclusion to the Guardians of the Galaxy Trilogy
If the theories are correct, we may be saying goodbye to some beloved characters in Guardians of the Galaxy Vol. 3.
However, there's always hope for the future of the franchise. Mantis, Groot II, Nebula, Kraglin, and Cosmo could become the new Guardians under the leadership of Adam Warlock. Gamora might retire, and Drax could have an appropriate and original ending.
We can barely contain our excitement as we await the highly anticipated release of Guardians of the Galaxy Vol. 3!
From what we know so far, it's clear that we're in for a truly unforgettable adventure with the beloved Guardians crew. With multiple deaths on the horizon and the fate of our beloved characters up in the air, we're counting down the days until we can witness the epic conclusion to this fantastic trilogy. We know that this ride is going to be anything but easy.
Whether you're a die-hard fan or a newcomer to the franchise, you won't want to miss this film. Get ready to laugh, cry, and experience all the feels as the Guardians of the Galaxy take their final bow.
So, grab your popcorn, put on your Star-Lord headphones, and get ready for one wild ride with the Guardians of the Galaxy.
Marvel's Guardians of the Galaxy Vol. 3 is all set to premiere on May 5, 2023, in your nearest theatres.
What are your thoughts on who might meet their demise in the movie? Are you Team Rocket or Team Starlord? Let us know in the comments below.
And if you're hungry for more pop culture musings and witty banter, head over to averagebeing.com for your daily dose of entertainment news and articles. So go ahead, check it out, and thank me later!