Think about the most famous names you can recall in 5 seconds. There are high chances that The Rock is popping into your mind.
Dwayne Johnson, born on May 2, 1972, began his inspiring journey to stardom by first trying his hand at college football in the Miami Hurricanes Football, post which he was drafted by Calgary Stampeders in Canadian Football League. However, his career couldn't take off.
As one door closes, he slams open the biggest door of his career with professional wrestling in 1996. He was the key player in redefining the World Wrestling Federation, or WWF, as we know it today, putting it forth in mainstream entertainment. His dominance made the whole world smell what The Rock was cooking.
And just at his peak, he decided to give acting a chance. The handsome half-Samaon-half-Black Nova Scotian was cast in some of the most masculine and aggressive roles. He quickly established himself as one of the finest action stars who could pull the audience into the theatres.
This box-office magnet contributed $5 Billion in combined revenue with his movies. While some reports state that his personal net worth stands high at $800 Million.
But it's not just about the numbers. Dwayne Johnson enjoys a wide spectrum of fan demographic– from young children to old people; he has managed to enthrall them all. He is regarded with a high reputation in the industry.
However, the Black Adam star may face some backlash following a lawsuit. Or is it all malicious intent? Let us find out–
Dwayne Johnson Embroiled in a Conspiracy Lawsuit
In October 2022, a plaintiff recorded a chargesheet, naming some of the biggest names in WWE history, such as Nikki Bella, Mick FoleyMaryse, The Miz, Heath Miller, Mark Jindrak, and several others. Even though he is not a primary accused, Dwayne Johnson's name seems to have resurfaced in this case again.
As mentioned above, Dwayne Johnson is a man of numbers. And in utmost irony, he is sued for a whopping $3 Billion. The lawsuit was filed before the U.S. District Court, Southern District of New York.
In the shortest explanation: He is charged among several others for kidnapping a former WWE Diva Search wrestler and her children. The lawsuit stretches across 48 pages naming several other entities like Panda Energy, Home Depot, Deep South Wrestling, FCW, NWA, NWA President Billy Corgan, Jim Cornette, and most randomly, Michael Jordan, among several others.
Who Is Accusing Dwayne Johnson?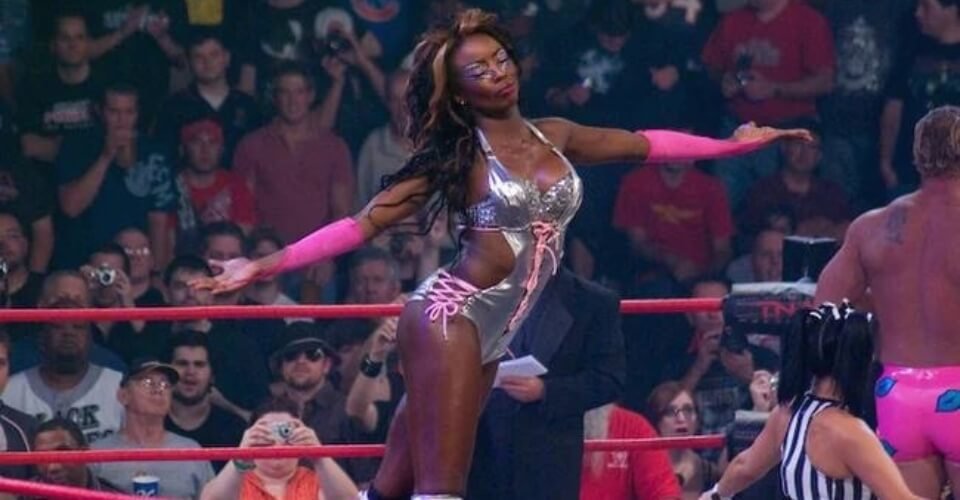 Trenesha Biggers, a.k.a Rhaka Khan, a former WWE star, is known for her appearance in Total Non-Stop Action (TNA) wrestling. Although her name faded into entertainment obscurity as she was last seen in the ring for the Lucha Libre promotion in 2011.
Moreover, the Texan court warned her about her several absences in court hearings in December 2022. Her ill records suggest interference in child custody while also facilitating aggravated kidnapping. She was also on the wanted list by the El Paso police department for the same.
What Does the Lawsuit Imply?
The lengthy lawsuit has several ambiguous discrepancies. The accusations are pretty serious, but they lack any validity due to random statements.
The only association that Dwayne Johnson has with Briggers is through the Wrestling fraternity. Also, as mentioned in the list of accused, it seems more like a spoof than an actual lawsuit. Since the case is still under full disclosure, it is too soon to make any inferences.
Our Take
This case is slowly developing as we are reporting this news. Even though the charges sound ridiculous, the names mentioned are the most influential people in the industry. We are waiting for it to gain proper traction before suggesting anything.
Also, as we know, it is challenging for an ordinary person to file a tedious lawsuit naming huge names. It is usually rubbed under the rug. So, in case these allegations hold any ground, it would be extremely difficult for Briggers to prove them anyway.
On the other hand, Dwayne Johnson is always seen as a loving father to his three daughters– Simone, Jasmine, and Tiana. He was never a part of any such allegations in his 3-decade career. It seems a bit far-fetched to weave him into this conspiracy.
What are your thoughts on this case? What do you think about the lawsuit and the list of accused names?
Are these allegations true, or is it too soon to tell? Let us know in the comments below.