When I saw #WeLoveYouTaylor trending on Twitter/X, my first reaction was to scroll away. After all, there are a few days when the global popstar isn't trending.
However, one click on the tag revealed that something far more disastrous had happened than Swifties expressing their love for the star.
Someone passed away at a Brazil Eras concert in a pit of fire, and all hell broke loose. So, it's time to talk about what happened.
Ana Clara Benevides Machado (23) and Gabriel Milhomem Santos (25) died after attending Taylor Swift's concerts at the Estádio Olímpico Nilton Santos. Ana died as a result of cardiorespiratory arrest, and Gabriel was stabbed to death at the Copacabana beach. The pop star said on Instagram, "I can't even tell you how devastated I am by this… My broken heart goes out to her family and friends."
Who Died At Taylor Swift's Eras Tour Concert In Brazil? What Was Taylor Swift's Response?
Taylor Swift took to Instagram to express her devastation after a fan passed away. She wrote:
"I can't believe I'm writing these words, but it is with a shattered heart that I say we lost a fan earlier tonight before my show. I can't even tell you how devastated I am by this. There's very little information I have other than the fact that she was so incredibly beautiful and far too young."
She further expressed her sorrow and said:
"I'm not going to be able to speak about this from stage because I feel overwhelmed by grief when I even try to talk about it. I want to say now I feel this loss deeply, and my broken heart goes out to her family and friends. This is the last thing I ever thought would happen when we decided to bring this tour to Brazil."
Taylor Swift had to pen this statement because 23-year-old Ana Clara Benevides Machado died on Friday, November 17, 2023, at the Estádio Olímpico Nilton Santos concert. BBC reported that the reason for death was cardiorespiratory arrest.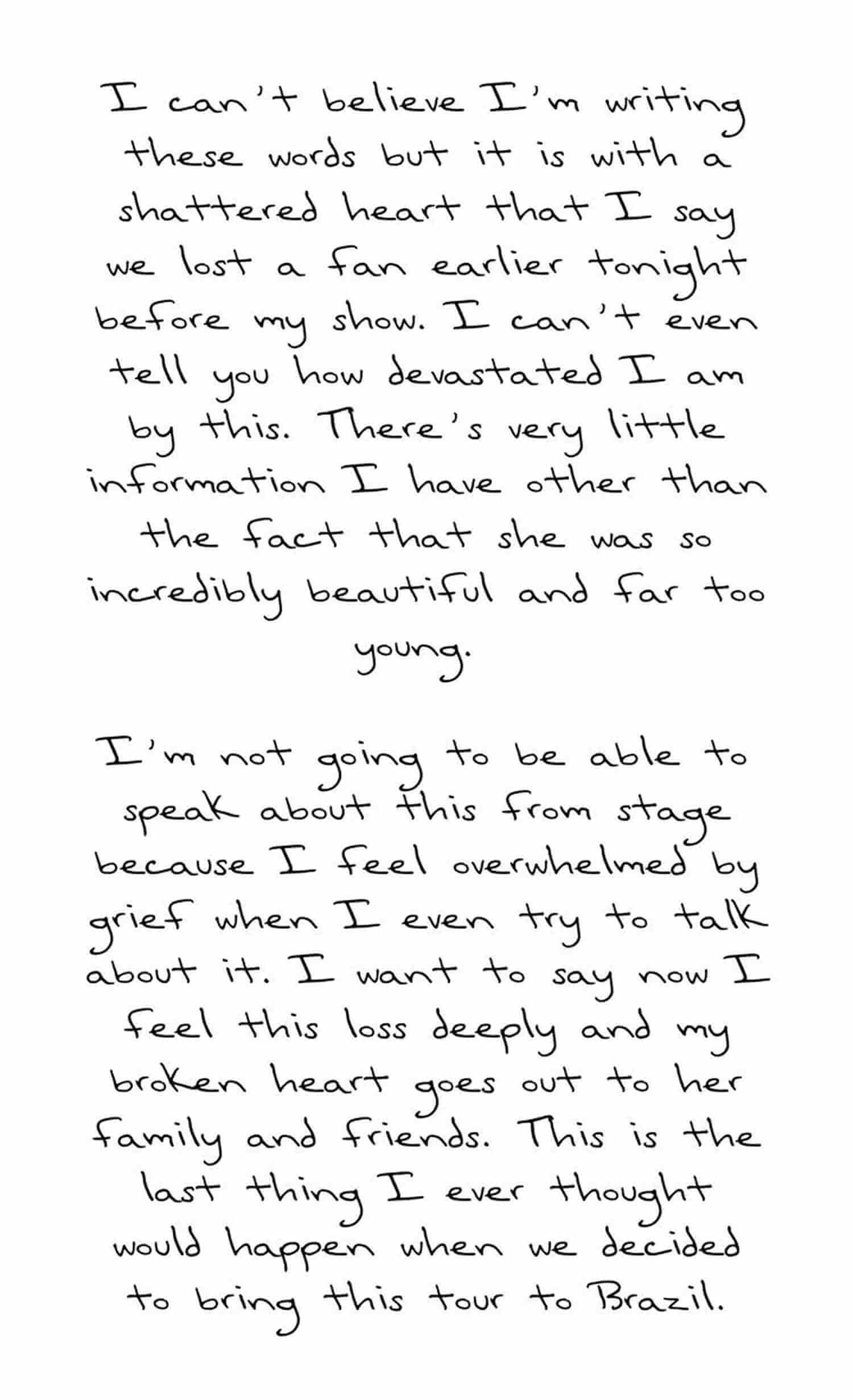 The Rio-based stadium holds 70,000 people, and even though it is open-air, it can get excruciatingly hot inside. Also, the region is experiencing eye-sweltering heat waves, with daily temperatures reaching 103 degrees Fahrenheit/ 39 degrees Celsius.
Fans have alleged that the slits along the wall that allow better air circulation were blocked off. Apparently, the event organizers didn't want the people outside to be able to glimpse at the concert. Also, concert attendees weren't allowed to bring their water bottles inside.
Swift was seen instructing her team to hand out water bottles to the fans. She also rescheduled her November 18, 2023, concert to November 20, 2023, because of the extreme heat.
Time4Fun, the event organizer, explained the situation (via Vanity Fair). They said that Ana Clara Benevides was admitted to the medical center at the stadium for emergency first aid after feeling unwell.
However, since her situation wasn't improving, she was taken to the Salgado Filho Hospital for further treatment by the medical team. But after an hour of emergency care, she passed away.
Many fans questioned why she wasn't taken directly to the hospital.
Ana Clara's passing sent shockwaves throughout the nation. Brazil's mayor, Eduardo Paes, termed her death unacceptable. He said on Twitter/X that he ordered the municipality's executive chief of operations to take action about the concert's production.
Also, he has said that plans will be made to ensure that the fans who arrive early will be kept under a shade. Moreover, free water will be available at various points throughout the stadium.
Also, the previous rules that prohibited carrying water and food inside the stadium will be lifted due to the inhumane heat wave sweeping through the stadium. However, the new rules state that the items must be sealed.
Thermos, aluminum, and metal bottles won't be allowed in. Additionally, arrangements are being made for more ambulances to be stationed outside the stadium.
At the recent concert, fans thought Swift also paid tribute to the deceased 23-year-old fan when she played her ballad "Bigger Than the Whole Sky" as a surprise song at the Rio show on November 20, 2023. 
However, many have also said that the pop star needed to do more for the deceased fan's family and help with money. What Swift's actions are next remains to be seen.
Update:
Tragedy strikes again as another Taylor Swift fan passes away. 25-year-old Gabriel Milhomem Santos was stabbed to death just hours after attending the concert at Nilton Santos Olympic Stadium in Rio de Janeiro.
Per Metro UK, Santos was with two of his cousins when they decided to visit the Copacabana beach for a swim in the early hours of Sunday morning on November 19, 2023.
Santos had fallen asleep on the beach when three men approached and began assaulting him. He woke up during the assault, but nothing could be done. The 25-year-old was wearing a friendship bracelet he had made when he was knifed to death.
Gabriel will be buried in the western state of Mato Gross do Sul, which is his hometown. As a tribute to his love, he will be laid to rest wearing the outfit he prepared for Taylor Swift's concert.
What do you think of the sweeping changes that Brazil's mayor is making? Is it better late than never? Do you think Swift could have done more for the fan's family?
Let us know your thoughts in the comments below.
Source: Vanity Fair, BBC, and Metro UK