Eric Nam is an acclaimed singer and entertainer who recently found himself at the center of a significant controversy. The South Korean-American artist is known for his soulful rhythms and charismatic performances. 
The singer is currently on a world tour. However, during this tour, his actions forced his team to cancel Malaysia's concert. But what exactly happened? Did he cancel the concert? Keep reading to know more about Eric Nam and the Israel-Palestine War controversy surrounding him.
Yes, Korean-American singer Eric Nam has canceled his concert in Malaysia. Apparently, on October 9, 2023, Eric liked a post updated by political strategist Jordan C, who is known for his stand on the Israel-Palestine conflict. His one action disappointed many. Few even gave him threats, resulting in the cancellation. Finally, on October 30, 2023, Eric addressed the issue and expressed that he supports love, equality, and peace for all.
What Happened With Eric Nam? Explaining the Israel-Palestine War Controversy and the Cancellation of Malaysia's Concert
The ongoing Israel-Palestine is one of the harsh realities of today's time. Many innocent people are losing their lives, while many celebrities are cornered for their perspective on the situation, like Gavin Casalegno and more. In this series of criticisms, Eric Nam is a new name who had to cancel one of his tour dates in Malaysia and ignited a firestorm of online discussion.
Let's start from the start. On October 9, 2023, Eric liked an Instagram post discussing the Israel-Palestine conflict by Jordan C. The questionable post suggested that it's reasonable to criticize the Israeli government's treatment of Palestinians. At the same time, it was simultaneously advocating for the protection of Jews in Israel and around the world.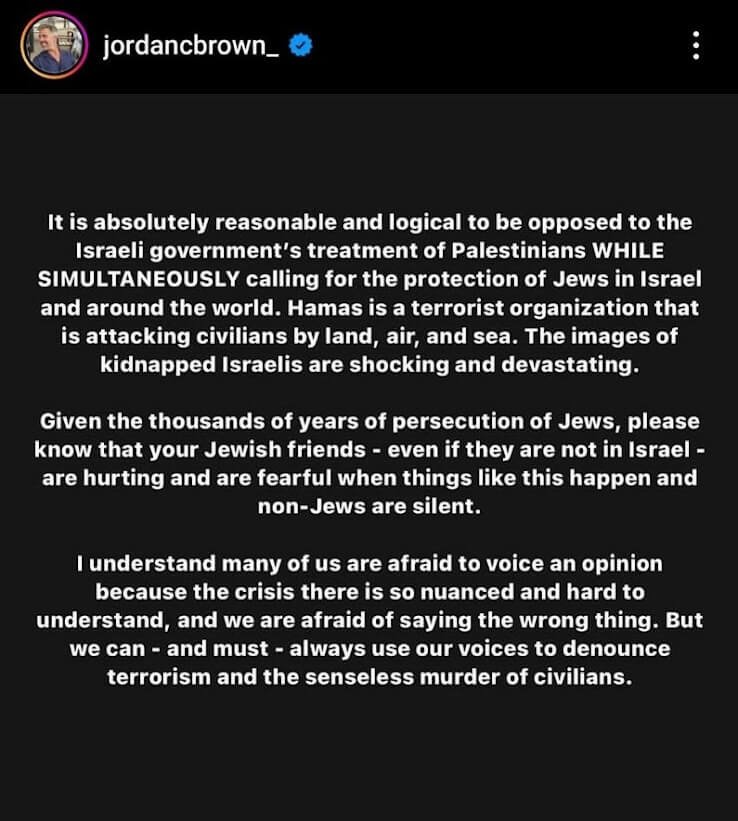 It is suggested that the post was trying to strike a neutral tone. However, according to a few fans, it had an underlying message to support Israel. This action triggered many fans as well as other people around the world. Few netizens claimed that he only spoke on behalf of Jews and Israel, neglecting the pain points of Palestine.
This series of back-and-forth accusations and claims soon turned dark. The singer shared on his social media account that he has been receiving threats about his concert schedule in Kuala Lumpur. Hence, his management team canceled the Malaysia show from his world tour, "House On A Hill."
Eddie Nam, Eric's brother and manager, also released a short statement on Discord, saying, 
"Hi all, I just wanted to pop in and say that Eric's not going to able to comment on this matter any time soon. It hurts to see these accusations, but there is little point in trying to clarify anything on the internet these days. Anyone who knows Eric knows his heart. The team and I are with him, so please don't worry. Thank you guys and so much love to all."
On October 30, 2023, Eric finally responded on his X (formerly known as Twitter). He clarified that he is not supporting anyone but is thinking about the innocent lives at risk due to war. He further expressed that he supports love, equality, and peace for all. The whole controversy received mixed reactions from the audience and his fans.
Eric Nam's journey through this controversy highlights the complexities of being a public figure, particularly when it comes to sensitive global issues.
What are your opinions on this matter? Let us know in the comment section.