Dead Island is the type of game that can convince any adult regarding the violent effects of video games on people. Is that enough to deter gamers from buying its sequel game super early? Nope.
This time, the zombies are coming to LA and San Francisco, providing you with lots of opportunities to paint the cities in red (with blood, of course).
Dead Island 2 dropped today, and gamers worldwide have taken to social media websites to express their opinion on it. The biggest question? Is Dead Island 2 worth its full price? Pro-gamers have stated that while the story isn't the best, it's a good game to have mindless fun with.
It might not be worth its full price ($70+), but if you are into smashing super realistic zombie heads and love an endless onslaught of gore, then this is the game for you. Some gamers claim that the quests are too similar and the plot is weak, but the graphics and audio are top-notch.
So, Have you started playing Dead Island 2 yet, or are you still stuck calculating whether your savings are enough for this big ticket?
Dead Island 2 PC Requirements
The system requirements of Dead Island 2 were dropped way before the game was released. Just in case you couldn't catch the details, we are here with the complete list of everything you need on your PC to download and play Dead Island 2.
Minimum
Recommended
High
Ultra
Resolution
1,920×1,080 pixels at 30fps
1,920×1,080 pixels at 60fps
1440p at 60fps
4K at 60fps
Processor (CPU)
Intel Core i7-7700HQ or AMD FX-9590
Intel Core i9-9900K or AMD Ryzen 5 5600X
Intel Core i5-12600KF or AMD Ryzen 7 7700X
Intel Core i7-13700K or AMD Ryzen 9 7900X
Graphics (GPU)
Nvidia GeForce GTX 1060 or AMD Radeon RX 480
Nvidia GeForce RTX 2070 Super or AMD Radeon RX 6600 XT
Nvidia GeForce RTX 3070 or AMD Radeon RX 6750 XT
Nvidia GeForce RTX 3090 or AMD Radeon RX 6950 XT
RAM
10GB
16GB
16GB
16GB
Storage, OS
Windows 10 with 70GB available
Can you Preload Dead Island 2?
Imagine waiting with sleepy eyes for the launch of your next fav game, but your system malfunctions, and the download is delayed. How are you going to be the first to brag now? That's precisely why games have the preload option, and Dead Island 2 is no different.
You can preload Dead Island 2 before it is officially launched so that when the game is live, you can jump to the gameplay directly. You can preload Dead Island 2 on both Playstation and Xbox two days before the launch, that is, April 19.
The following are the filesizes for each system:
PlayStation 5: 48 GB
PlayStation 4: 19 GB
Xbox One: 26 GB
Xbox Series X|S: 54 GB
PC: 70 GB
Is Dead Island 2 Multiplayer? How Many Players Can Play in Co-Op?
What better way to bond with your pals than smacking zombies in their guts? After tiring yourself out in solo mode, you will want to play with friends and laugh maniacally while blowing zombies' brains.
Dead Island 2 has co-op multiplayer for up to three players in the same session. Yes, it is a downer for larger friend groups, but it is what it is. Co-op becomes available during the main story quest, which you can reach after 20-60 minutes spent in the game.
Follow the below steps to play Dead Island 2 in co-op mode:
Go to the main menu, and select Continue.
Select the preferred lobby type: Single Player, Public, Invite Only, or Friends Only.
In-game, open the pause menu and select 'Social.'
Press F1 to bring up a list of friends that you can invite.
Is Dead Island 2 Cross Platform? Is It Cross-Gen?
Sadly, Dead Island 2 does not support cross-platform or cross-play. You cannot resume the game on different systems, nor can your friends with different systems play with you. It means that if you have an Xbox, you cannot play with someone with a PlayStation.
Dead Island 2 does, however, support cross-gen, so owners of different generations of the same ecosystem can play together.
Is Lil Pump in Dead Island 2?
One of Dead Island's characters looks suspiciously close to Lil Pump, making gamers wonder if the popular rapper is really used in the game. Sadly, the answer is no, and Lil Pump is not a playable character or an NPC in Dead Island 2. The character called Bruno simply has an uncanny resemblance to him.
What Time Can I Play Dead Island 2? (All Timezones Listed)
Dead Island 2 will be available in your time zone as soon as April 21 begins. That's right; it is not launched following a particular timezone, but rather on midnight of April 21 for all regions.
Dead Island 2 Voice Actors
Dead Island 2 boasts a cast of well-recognized voice actors. So, if you think some of the voices are familiar, you might have heard them before.
Check out the full characters and their cast list here:
| | |
| --- | --- |
| Character | Voice Actor |
| Amy | Skye Bennett |
| Bruno | Jay Rincon |
| Max | Mick Wingert |
| Dani | Michelle Fox |
| Ryan | Ronan Summers |
| Jacob | Okezie Morro |
| Carla | Carolina Ravassa |
| Janet | Jennifer Armour |
| Alex Nguyen | Derek Siow |
Can I Play Dead Island 2 Early?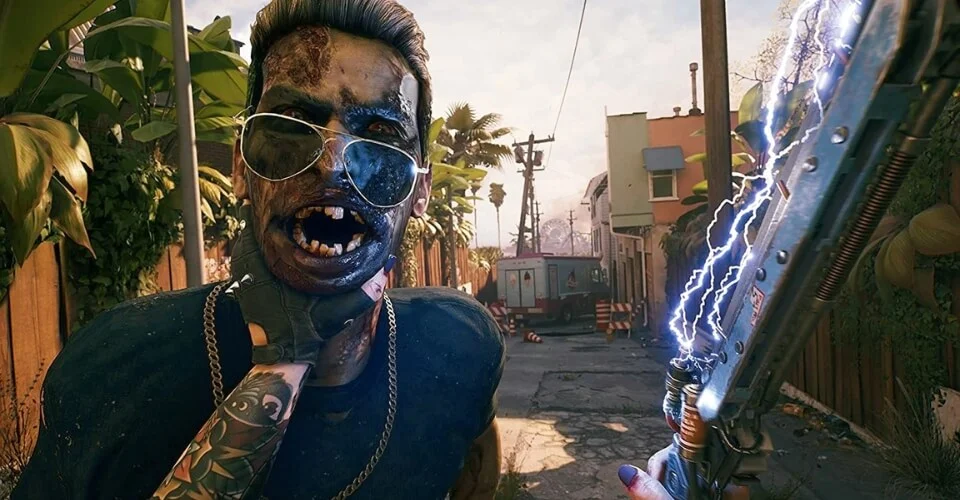 The New Zealand timezone trick might not work for you anymore, PlayStation gamers, making you frustrated and hungry to access Dead Island 2 soon. So, how can you trick the matrix into letting you in sooner?
Only Xbox Series X and Xbox One players can play Dead Island 2 early. You can change the region settings on the console since Xbox games aren't region locked. Switch your Xbox location to New Zealand time and language to start playing the game at 5:00 PDT on April 20.
Will Dead Island 2 Be on Game Pass?
No, Dead Island 2 is unavailable on both Xbox Game Pass and PC Game Pass. Players must purchase the game before they can start playing the sequel to the bloody zombie-killing game. However, it might appear on Game Pass later, so fingers are tied.
Dead Island 2 has turned out better than everyones' expectations after being in development hell for over a decade. While the puzzles and quests are unimaginative, they will still add enough bloody drama to your life to pass the weekend.
The highly anticipated zombie game Dead Island 2 is now available on the Epic Games store.