Very few people appreciate the art of Bartending. The 2006 anime, Bartender, gave Otakus a deeper dive into the work of a mixologist. Protagonist Ryuu Sasakura awed viewers in season 1 of the anime with his skills, and now fans are hungry for more.
Studio Liber has just announced a new anime, Bartender Glass of God, and I am glad to see that Ryuu will be coming back to entertain us with his delightful smile and unique drinks. The previous anime has charmed its way into our hearts as Ryuu made people realize what they wanted through his talent.
Despite being about alcohol and bars, Bartender never promoted alcoholism and addiction to any degree. The anime was more about healing the people who walked into Eden Hall than anything.
Will Bartender Glass of God wrap up the original manga once and for all? I think all otakus will be waiting for the manga characters to come back to life.
Bartender Glass of God Plot
Bartender Glass of God will follow Ryuu Sasakura, a bartender in a small Eden Hall bar in Tokyo. He is a genius mixologist who makes drinks according to people's needs, not what they want.
It is an episodic series where every episode features the life story of a different person who walks through the doors of Eden Hall. Every person who lets Ryuu serve them returns with a sense of fulfillment and clarity. That is the power of a bartender to bring out what's hidden in you.
The 2006 Bartender anime aired before the original manga had ended, so Bartender Glass of God may start where the previous anime ended. Alternatively, it might adapt the whole manga all over again.
New Visual
A brand new Twitter account was opened to announce the upcoming Bartender Glass of God anime. A new visual confirmed the anime's status, and you can check it out right here:
The visual shows Ryuu Sasakura pouring out a drink in his signature style. Since Ryuu personalizes drinks according to the customer's needs, it looks like the glass in the visual holds the key to quenching our thirst for a new season of Bartender.
A new character design image for Ryuu has also been revealed: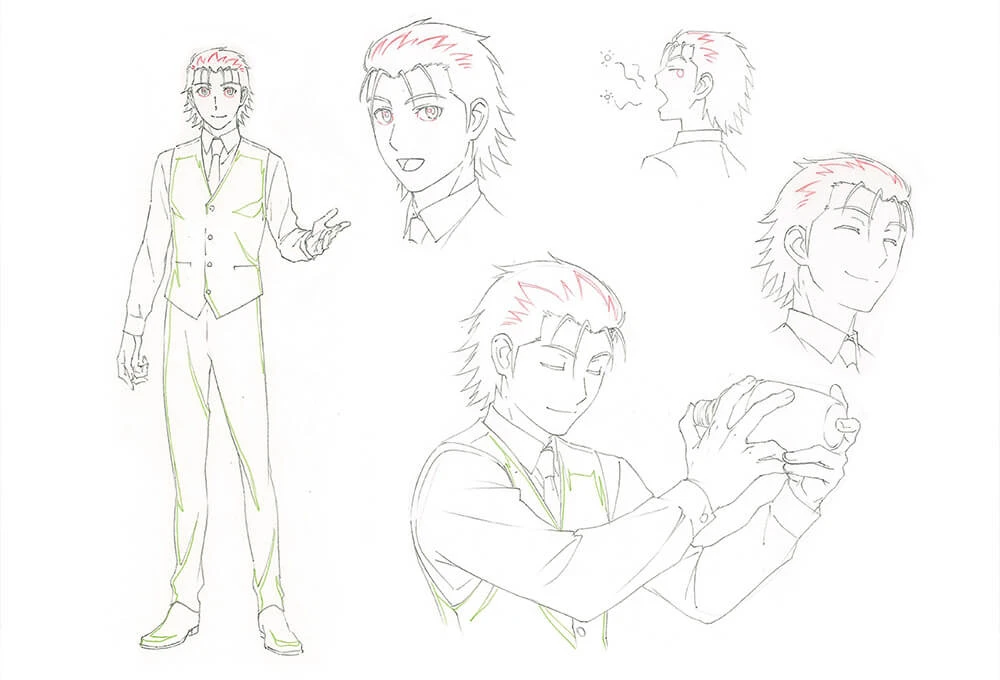 Main Staff
Studio Liber has employed some of the most renowned staff members in their fields for the Bartender: Glass of God Plot anime. You will find the list of all the prominent staff members below:
| | | |
| --- | --- | --- |
| Position | Staff | Other Works |
| Director | Ryoichi Kuraya | Farming Life in Another World |
| Series Scriptwriter | Mariko Kunisawa | Ascendance of a Bookworm |
| Character Designer | Yoichi Ueda | The Night Beyond the Tricornered Window |
| Studio | Liber | The Ice Guy and His Cool Female Colleague |
Release Date of Bartender Glass of God Release Date
Bartender Glass of God will be released in April 2024. A specific date has not been announced yet since the anime is still a year away from broadcasting. Crunchyroll will stream the anime as it airs in Japan.
The 2006 anime received 11 episodes; based on that, it can be speculated Bartender Glass of God will receive 12 episodes. However, if the whole manga is to be adapted again, it might receive 24 episodes divided into two cours.
Where to Stream Bartender Glass of God?
Crunchyroll announced it would stream the Bartender Glass of God simultaneously as it airs in Japan. Crunchyroll will stream the anime in North America, Central America, South America, Europe, Africa, Oceania, the Middle East, and CIS.
Those outside Crunchyroll's range can always use a VPN to watch the anime without interruption. We will update you if any other streaming service claims to broadcast Bartender Glass of God.
Well, Are you excited for Bartender Glass of God anime? Let us know your thoughts in the below comments.