Spy x Family, I'm sure you've heard about it. After all, this is the most popular and top airing anime of this year. To be honest, This anime is a complete package of entertainment.
It is wholesome moments, excellent action, badass characters, and yes, we have our cutest Anya Forger.
As a fan favourite already and anime like this doesn't come out often. So, Do you know more anime like Spy x Family?
I guess not. Today, we are here with 11 Anime Similar to Spy x Family. I know you are excited but believe me, you won't be disappointed after reading this blog. Without wasting any time, let's get into it.
[toc]
#11 Barakamon
Number of seasons: 1
Number of episodes: 12
Rating: 72/100
Barakamon is an enjoyable anime to watch. It is pretty inspirational as well. The story follows a young calligraphy artist named Seishu Handa. Even though he is young, everyone has acknowledged his potential and talent.
But one day a person called his calligraphy art unoriginal, and just after hearing this, he lost his temper and punched the man. His action came with a consequence as Seishu's father sent him to Goto Island so he could find his style.
On that island, there was a kid named Naru Kotoishi. Now, Naru might accompany Seishu, or he might give him a hard time. No matter what happens, it'll be fun to watch.
What's So Similar To Spy x Family:
Barakamon is based on child parenting, which is also what makes it similar to Spy x Family.
#10 Kotaro Lives Alone
Number of seasons: 1
Number of episodes: 10
Rating: 74/100
Kotarou Satоou is just a four-year-old boy living on his own because he doesn't have a parent. Recently, he moved to a new apartment and started living next to unsuccessful mangaka Shin Karino.
Kotaro is far more productive than the people around him. He is even earning his livelihood. So, let's see what will happen to his new neighbours and how Kotaro will change their lives.
To be honest, if you watch this anime, you will fall for its characters. That's because the plot line with the cute characters is amazing. This anime is worth your time.
What's So Similar To Spy x Family:
In Spy x Family, we have Anya, and here we have Kotaro. In these anime, Anya and Kotaro live with strangers, and over time, they become a part of the family.
#9 Beelzebub
Number of seasons: 1
Number of episodes: 60
Rating: 76/100
Have you ever wondered what it'll be like to have a kid with supernatural powers?
Tatsumi Oga is a high school student and is feared in other schools. That's because he is quite ruthless in fighting. This guy never lost a single fight and grounded all his opponents.
One day after saving a man from drowning, he met a baby boy, and they both found an instant attachment between them. But Toga didn't know at first that this baby would be the next demon lord.
His name is Kaiser de Emperana Beelzebub IV, and he has some huge powers. Can you imagine what is going to happen next?
A normal human is going to take care of the next demon lord. This is going to be fun.
What's So Similar To Spy x Family:
Well, the main similarity is the kids in the anime. Both Anya and Beelzebub have superpowers, and someone is going to take care of them.
#8 Hinamatsuri
Number of seasons: 1
Number of episodes: 12
Rating: 78 /100
Yoshifumi Nitta is a member of a very powerful and dangerous Yakuza organization. One day he found a capsule that came out of nowhere, and when that capsule opened, there was a blue-haired girl named Hina inside it.
She doesn't remember anything besides her name and is not an ordinary girl either. Hina possesses an immense amount of supernatural powers. Yoshifumi becomes her fake dad so she can live and use her power freely.
However, things didn't go smoothly because more girls with power similar to Hina started appearing, and they were on a mission to take her with them, dead or alive.
So, Will Yoshifumi be able to save his fake daughter? What is going to happen with both of them? Watch it and find it yourself.
What's So Similar To Spy x Family:
Anya from Spy x Family and Hina from Hinamatsuri both have supernatural powers, and they are living under a roof with someone who cares about them.
#7 Kaguya Sama: Love is War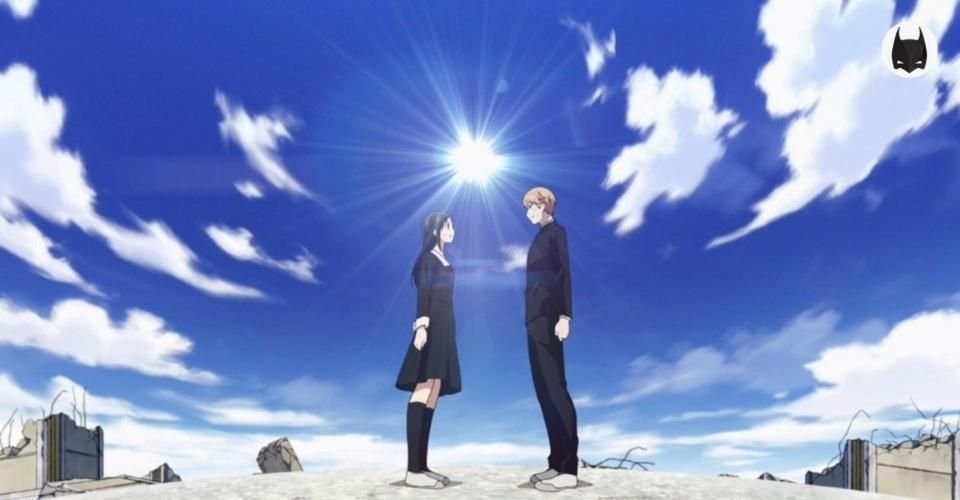 Number of seasons: 2
Number of episodes: 33
Rating: 80/100
This is one of the best rom-com anime ever made. Even though it doesn't have romance, it's still full of comedy.
Miyuki Shirogane is the smartest student and is also the president of the student council at Shuchiin Academy.
The Vice President of the student council is the beautiful and rich Kaguya Shinomiya. They both have feelings for each other, but they are not willing to confess them. Instead, they want the other person to confess first.
This is a war where everything is fair, all tactics and moves are allowed, and the goal is to make the other person confess first. If you ever want to watch a feel-good comedy anime, this is made just for you.
What's So Similar To Spy x Family:
Kaguya Sama is similar to Spy x Family because of its characters. Their physical traits are similar. Take Kaguya and Yor as an example, they both have black hair and red eyes. We also have pink-haired girls in both anime who make the show more interesting.
#6 Love of Kill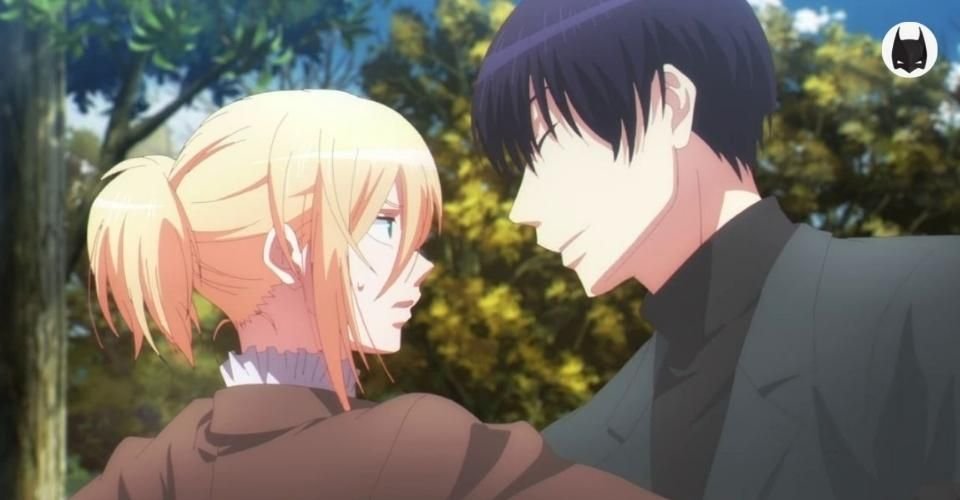 Number of seasons: 1
Number of episodes: 12
Rating: 84/100
To be honest, Love of Kill is an action anime, but it also has romance in it that is very unique.
Chateau Dankworth is a bounty hunter, and she is the best at her work. This girl never fails, but one day during her mission, Chateau met someone who was able to easily overpower her.
That someone was Ryang-Ha. He instantly took an interest in Chateau and was willing to help her in every way possible. He does things like giving her the information related to her target, and even the location.
He'll provide her with everything. But in return, she has to go out with Ryang-Ha. Chateau made it clear that she has no interest in getting in a relationship, but she'll go out just for her mission.
However, both of their past is something that's been haunting them for a long time, but now they are finally going to face it and overcome it together.
What's So Similar To Spy x Family:
Just like Yor and Loid, who are living together so they can fulfil their mission, Chateau and Ryang are doing the same. Not just this, both the anime have quite similar elements like the tragic past of the main characters and the involvement of powerful organizations.
#5 Moriarty The Patriot
Number of seasons: 2
Number of episodes: 24
Rating: 88 /100
This anime is not funny or wholesome. It's dark and tragic, but this is one of the best and most interesting ones out there. It has a lot of mysteries, and with each episode, your curiosity will only increase. This anime is set in the 19th century when British rule.
Middle-class or poor people were considered nothing and the nobility were granted a luxurious life, but some people hated all these and wanted to bring a revolution.
The Moriarty family and their two sons, William and Albert, had their big secret that would shatter the world but now, they are going to bring the revolution and get rid of the nobles. Unfortunately, there is someone in their way, and that man is Sherlock Holmes.
What's So Similar To Spy x Family:
We know that Loid is a spy whose mission is to maintain peace. The same goes for Alber and William, but their approach is different.
#4 Full Metal Panic
Number of seasons: 3
Number of episodes: 49
Rating: 92/100
Mithril is an army with the best soldiers and advanced weapons whose goal is to stabilize world peace. This army also has some highly intelligent individuals who can create deadly weapons.
They are called Whispered. Sousuke Sagara is an undercover agent and is on a mission to protect a girl who is the candidate of Whispered.
The name's Kaname Chidori. No matter what, He has to get close to her and protect her from the enemy force, but Sousuke has to keep his identity hidden.
Since Sousuke was raised on the battlefield, he doesn't know how to live an ordinary high school life. Being 17 years old and having no knowledge about life, this will be a tough cookie for him. So let's see if he'll succeed on his mission or not.
What's So Similar To Spy x Family:
I think it's clear Loid and Sousuke are keeping their real identity hidden to fulfil their mission and bring peace to their respective nations.
#3 The Millionaire Detective Balance: UNLIMITED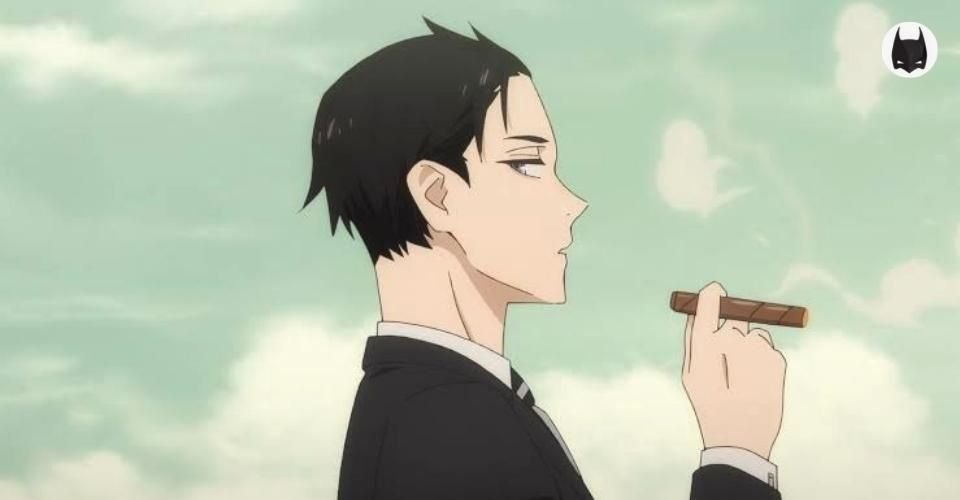 Number of seasons: 1
Number of episodes: 11
Rating: 94/100
Have you ever wondered what it feels like to be so rich that you can purchase a whole island or a million-dollar car in an Instant?
Daisuke Kambe is a detective, but he is not an ordinary agent. He's the head of the Kambe company and is a billionaire.
He uses all types of modern gadgets and customized vehicles during his investigation. Now he works at Modern Crime Prevention Headquarters, and there he was partnered with Haru Katou, who is different from Daisuke in every aspect.
But they have a big mystery to solve that has been untouched for quite a long. Will they be able to do it?
What's So Similar To Spy x Family:
Like, Loid, Daisuke is a secret government agent but unlike the former, He uses money to get things done.
#2 Golgo 13
Number of seasons: 1
Number of episodes: 50
Rating: 98/100
Golgo 13 is one of the best anime out there based on the life of a spy whose real identity is unknown. No one knows his name. People thought his name was Duke Togo or Tadashi Togo, but no, everyone was wrong.
He was known as Golgo 13 aka the world's best spy. He didn't work for any particular nation or organization. Anyone can hire him, but you have to fulfil his conditions and the money he takes as payment.
No one knows where he came from or why he is working as a spy. Everything about him is a mystery, but his skills are appreciated throughout the world. He is a living beast who is always loaded with his custom M16 gun.
Golgo 13 is someone every nation fears, and he is also someone who can save a nation.
What's So Similar To Spy x Family:
It's already clear the main element in both the anime is being a spy. Both Loid and Golgo are masterminds in their craft with an unknown past.
#1 Princess Principal
Number of seasons: 1
Number of episodes: 12
Rating: 100/100
Albion has become the most dominant country in the world because of a special substance called Cavorite, and by using this, they made the strongest air force of any nation.
However, Albion got divided into two parts post the construction of the Great London Wall, and now there are two separate countries one is Commonwealth, and the other is Kingdom.
After several years, the Commonwealth is trying to change the princess of the Kingdom. They plan to change the current princess with Ange Le Carré but she was planning something else entirely.
The princess wants to become the queen of the Kingdom as she is an undercover spy who was working with the Commonwealth. It might look complicated, but it's a lot more interesting and fun. This anime is criminally underrated and deserves more popularity.
What's So Similar To Spy x Family:
For starters, Both anime are set in a European Country, and the main cast is trying to live the life of regular citizens while keeping their real identities hidden but one wrong step can bring destruction to the whole nation.
That brings an end to our countdown of anime like Spy x Family. But there are a few more anime that deserve some spotlight.
Honourable Mentions
Great Pretender
Kakushigoto
Baccano!
Usagi Drop
Noir
So, Which show are you going to binge at this weekend?
Let us know it all on our Instagram handle here and in the meanwhile, Keep visiting averagebeing.com for more awesome anime content.