President Trump's indictment over 34 felony counts has shaken up America as the country is now divided into two factions: "I knew it" and "Impossible!"
Those who believe his indictment and arrest are unfair are picking faults of the judiciary system. However, the non-supporters are simply confused. "Why do people support Trump" has been trending ever since the indictment.
To sum it up, Trump is accused of an extramarital affair with an adult actress as well as hush money payment to the actress. The prosecutors also alleged that the president was a part of suppressing negative information during the 2016 elections that he won. Of course, Trump pleaded not guilty to all charges, which raised a lot of eyebrows.
A New CNN poll shows that the majority of Americans approve of Trump's indictment, but we dug deeper.
Americans Can't Get Over Why People Support Trump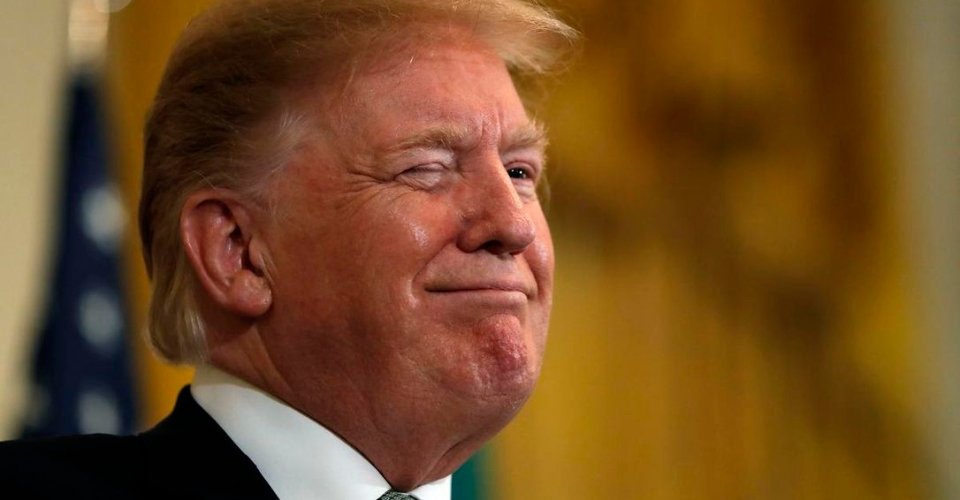 A new finding by averagebeing.com shows that Americans are more confused than ever about why people still support Donald Trump. The puzzlement is valid as this is not the first time Trump has faced charges. After all, he is the only American president to have been impeached twice!
The House of Representatives impeached Trump twice: in 2019 and 2021. Both times, he was acquitted by the Senate, but his popularity has gone down among voters.
Thus, the recent indictment is no surprise to Americans. What does surprise a large faction of the country is why the president still receives support.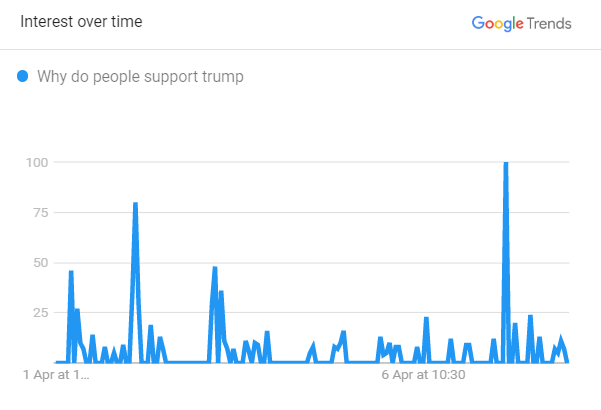 Thus, we analyzed Google Trend reports and discovered that searches for "Why do people support Trump" skyrocketed by a massive 1259.2% in the U.S. Below listed are the top regions where the phrase was trending:
| | |
| --- | --- |
| Region | Search Interest (%) |
| Missouri | 100 |
| Ohio | 99 |
| Connecticut | 97 |
| Massachusetts | 95 |
| Virginia | 94 |
| North Carolina | 86 |
| Maryland | 82 |
| Colorado | 71 |
| Michigan | 65 |
| Washington | 58 |
Which State Hates Trump the Most?
Now that the Trump controversy is increasing with no breaks, we wanted to see which state hates Trump the most. The data below shows which states searched for "Donal Trump sucks" most on Google. We found out that this particular search spiked by 1131.6%.
Below is a list of states where the trend is more pronounced:
| | |
| --- | --- |
| Region | Search Interest (%) |
| Massachusetts | 100 |
| Ohio | 97 |
| Pennsylvania | 93 |
| New Jersey | 87 |
| North Carolina | 57 |
Massachusetts, Ohio, and North Carolina have consistently held their places in both charts, showing that voters from these three regions are the most doubtful about Trump's innocence.
The data doesn't just end here, as searches for "Save America from Trump" increased by 1194.3% just after his arrest. The indictment, coupled with Trump's past impeachments has taken a heavy toll on his reputation.
After Trump's team files motions and the prosecution responds, Judge Juan Merchan will rule on them in early December. Till then, the world will have to live in an uncomfortable darkness regarding the integrity of America's president.
The division between American voters as well as the sensitivity of the situation, does not bode well for the country.
After reading through all the data provided and knowing about Trump's charges, have you decided which narrative you want to support yet?