Cinema with black people is experiencing a revolutionary trend. Paving the way is Academy Award winner Jordan Peele whose first movie, Get Out, created a pleasantly uncomfortable aura. Gone are the days when black-centric movies have an overpowering undertone of a 'white-savior trope' like Blind Side, The Help, Freedom Writers, Avatar, Dangerous Minds, Finding Forrester, and several others.
Movies like Nope, Us, Master, Purge series, and many more are creating a wave of 'say-it-like-it-is' for liberals and conservatives. Among these, director Mo McRae is bringing his debut vision with 'A Lot of Nothing.' Already creating a buzz, the movie is subverting the trope by introducing counter-scenarios.
A Lot of Nothing: Official Trailer
You know the movie will flicker brain waves when the trailer leaves you with curious questions. It gives a similar vibe as "Andhadhun," where the core plot is revealed, but you have to wait for multiple twists revolving around it. The trailer sets enough anticipation to think of possible theories.
As soon as the release, the audience seems to have split opinions on the movie.
Some found the movies raised the right issues and the awareness of the racial environment, while some felt the movie lost its potential as it progressed. Nevertheless, people are left with a puzzling aftertaste of the movie.
Let's dissect the cinema and what it all meant!
What Is 'A Lot of Nothing' Movie About?
The movie revolves around a black couple, James (Y'lan Noel) and Vanessa (Cleopatra Coleman). This picture-perfect couple lives in a decent neighborhood, yet there is a seemingly 'something-is-off' aura around them.
Vanessa, who works in finance, is subjected to inherent racism at the workplace with microaggressions. This biracial woman has to deal with a different kind of identity crisis and come to terms with it.
The movie starts with a news bulletin about a child being shot by an officer. As it turns out, he is the next-door neighbor to our main couple. Brian (played by Justin Hartley) is initially shown as a smug cop who probably is the front-runner for #BlueLivesMatter.
Through a genius metaphor of plucking the forbidden fruit, Vanessa is carrying a bag of groceries and happens to drop an apple. As she is about to pick it up, she spots Brian exiting his house. And just in the spur of the moment, she decides to confront him. What follows next is one hasty decision after another.
James and Vanessa greet James's brother (Jamal Shamier) Anderson and his 'baby-mama' Candie (Lex Scott Davis); while Brian is tied in their basement. All this happens in the first 15-20 mins of the movie. The rest 80 mins explore each character's inner monologue and peel the layers of their hidden lives.
What Themes Are Covered in 'A Lot of Nothing'?
Director Mo McRae, who was also part of The First Purge, has brought a lot of fragments of that movie into his own story. He also recruited some of the Purge crew.
Overall, McRae's vision wants to explore many topics that deal with systemic racism and how it is prevalent today despite the emergence of Black people. Some of the themes covered in this movie are–
Colorism, Microaggressions, Class, Fertility, Veganism, Gentrification, and racial profiling.
Through the POV of Vanessa, the movie also explores the 'Tragic Mulatto Trope' where her biracial identity makes her question everything and, at the same time, become a nuisance. Although, she is one of the most interesting depictions of black women in current society. Her questions are valid, but her approach is questionable. But the movie gets my brownie points for showing 'feminine rage' in its rawest form.
James portrays the role of a supportive husband quite well, but there is an obvious crack in their marriage. Instead of fixing it through communication, the couple practices unhealthy positivity in a toxic relationship. But they look cute together, so whatever!
What Does the End of 'A Lot of Nothing' Mean?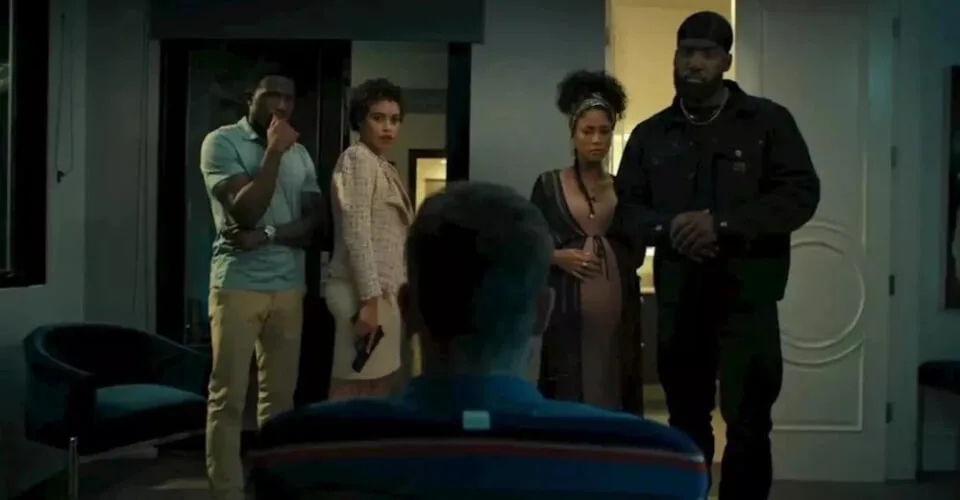 Coming to the end where all hell breaks loose.
*SPOILER WARNING*
Turns out half news is the most dangerous news.
The child that Brian shot was not black; he was white! This revelation brought James to a moral dilemma, but more importantly, he was baffled by how he was in the wrong here.
In the pre-climax of the movie, James also offers $100K to Brian to forget everything that happened. But you know how Chekhov's Gun works: If anywhere in the story you pulled a gun, you have to fire it. The moment Vanessa pulled a gun to Brian's head in the first scene, the movie had a definite ending.
So what did it all mean?
Vanessa was the voice, but James had to find a reason. And both of them failed in pre-conceived notions. And their shadow self couldn't handle their outer ego and persona when Brian actually apologized for killing a child. That is when James shot Brian, killing his own self-belief.
This thriller questions the blend of psychology and philosophy and its consequences on society. If you are interested in such movies, we recommend 'American Psycho,' which also deals with severe psychological analysis– read here to know more.
'A Lot of Nothing' was released in US theatres and is available for streaming on Apple TV and Vudu.
Passing the question to you–
Do you think the story depicts our current state of cancel culture well? Are we too stuck in our opinions to counter our own thoughts?
Most of all, did you like the movie? Let us meet in the comment section to discuss more.