It seems like every day on the internet, a new controversy arises. This week, the spotlight is on TikTok personality Jackie La Bonita, who has been in the midst of a huge social media debate after calling out two women for reportedly bullying her at a Houston Astros game.
If you've been on TikTok lately, you might have come across the name Jackie La Bonita. And by any chance, If you haven't heard about Jackie La Bonita yet, it's time to tune in, kids.
The details of the incident have been the subject of a lot of internet chatter, with many people asking who is Jackie La Bonita and what exactly happened. Let's dive in and find out!
Who Is Jackie La Bonita?
Jackie is a popular content creator who regularly posts her videos on TikTok. She's got a considerable following of 248.6k on the platform and over 12.4 million likes on her videos. She's also got 28,000 followers on Instagram, where she describes herself as a "silly Scorpio in Texas" and a "video creator."
Jackie loves makeup and fashion, and she often shares videos of her shopping hauls from stores like TJ Maxx and Marshall's. She's also worked with makeup brands like Urban Decay and BaBylissPRO and shared some of her styling secrets on TikTok and Instagram.
What Happened to Jackie La Bonita?
So how did this Texan go viral on Tik Tok? Here's the tea on Jackie and her viral moment.
Jackie was attending a Houston Astros baseball game when two girls allegedly started making fun of her for taking pictures of herself. In a TikTok video, she claimed they were calling her "lame" and sticking their tongues out in her direction.
"Watch my confidence disappear after these random girls make fun of me for taking pics," Jackie captioned her Tik Tok video, which has garnered more than 17 million views.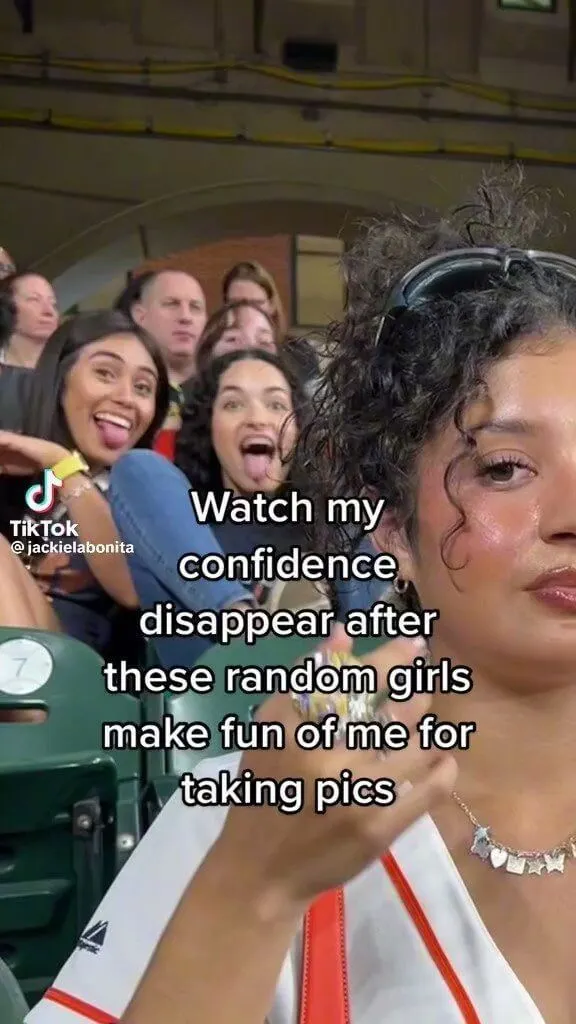 Not cool, girls! Not cool.
Jackie said that the incident made her want to cry, leading to an outpouring of support from her followers. But what followed after this is anyone's worst nightmare.
The Doxxing Debacle
Well, things got a little out of hand on social media. As they always do! The two women in the video were soon identified and doxxed on social media, leading to backlash for their employer, Limestone Commercial Real Estate. People have been leaving negative reviews on Google in response to the incident.
The video quickly went viral, and social media users quickly condemned the bullies. However, the situation took a turn for the worse when the identities of the two girls were revealed on social media, leading to a massive backlash. Some even went so far as to expose their personal information and jobs online.
This led to a debate about whether it was worth ruining their lives over this incident, with some social media users questioning whether the backlash was too harsh.
"The fact that litzareli madrigal was found within minutes of the bullying video going viral and the company she works for has had to label themselves as perminantly closed, should serve as a reminder that it takes one time to go viral and it'll ruin your life. Was it worth it?" one user named @JuniorMoff tweeted.
"Why are we not commenting on the actions of the girls, keeping in mind that had they acted like semi-decent human beings the company wouldn't have backlash?" one user said in response.
What Did Cardi B Say About Jackie's Bullying Incident?
The one and only Cardi B even weighed in on the controversy. As one of the biggest names in music, Cardi B is known for speaking her mind. She tweeted Jackie's video and said, "I would have used that ring." Fans of the rapper were quick to show their support for Jackie and condemn the bullies.
This has raised awareness of the issue and sparked a conversation about protecting vulnerable people online. At the same time, many have argued that doxxing is wrong and should not be used as vigilante justice.
"The energy you get from hyping other girls up is so amazing and goes a long way, ill never understand how people can be bullies. Especially women towards other women, we already struggle enough 😔" a Redditor commented.
What's the Latest Update?
As of now, the two girls in question have not publicly commented on the incident. However, a TikTok user named @Stephano_Z (allegedly the ex-boyfriend of one of the bully girls) posted a video defending them and claiming that they don't work for the company that has been receiving negative reviews on Google.
Is It Ever Okay to Doxx Someone?
Doxxing, which involves publicly sharing someone's personal information online, is never okay. Even if someone has done something wrong, it's important to remember that they are still a person with feelings.
While it's natural to want to seek justice, it's essential to do so in a way that doesn't harm others. As one Twitter user pointed out, going viral can ruin someone's life. It's important to think before you act, especially regarding social media.
In today's digital age, it's easier than ever for bullies to hide behind the veil of anonymity online. But even though we may not be face-to-face with the people we're hurting, we must remember that our actions still have real-world consequences.
Because, in the end, the impact of our words and actions can be felt far beyond the confines of a computer screen.
Let's spread positivity and love and keep the drama to a minimum. Until next time, stay sassy!
If you want to read more about this TikTok feud and other juicy pop culture news, head over to averagebeing.com. And don't forget to leave a comment sharing your thoughts on this incident.