Every time you hear the word Pokémon, the first thing you conjure is bound to be Ash's cute thunderbolt-generating Pokémon. This yellow creature with a lightning bolt-shaped tail and red cheeks has won over generations of anime lovers.
However, has it ever crossed your mind what kind of animal Pikachu was inspired by? The answer is obvious for Pokémon s like Squirtle, Bulbasaur, Charmander, or even Team Rocket's Meowth.
However, the design of Pikachu has eluded fans. Is it a rat, a squirrel, or some other rodent? Let's find out what inspired the classic Pokémon's design.
What Animal is Pikachu in Real Life?
Atsuko Nishida, the original designer of Pikachu in Pokémon Red and Green, confirmed that Pikachu is based on a squirrel.
Nishida clarifies her answer by commenting, "At that time, I was really into squirrels, so I wanted the character to have puffy cheeks. Squirrel tails are cute, so I wanted it to have a tail. However, I wanted the character to have a lightning element, so I made it shaped like lightning."
Fans are quick to assume that since Pikachu is a mouse-type Pokémon, he must have been inspired by one, but such is not the case. Some had even argued that Pikachu originated from Pika, a small mountain-dwelling mammal that looks like a cross between a mouse and a hamster.
Nishida also justified why Pikachu's cheeks can emit electricity. "when hamsters stuff themselves with food, their entire bodies become round, right? But for squirrels, it's just their cheeks." Thus, the food storing capacity of squirrels in their cheeks was directly translated to Pikachu storing electricity in them.
Is Pichu a Mouse?
Pichu is the pre-evolved version of Pikachu. It is a small ground-dwelling rodent that can later evolve into Pikachu and even further into Raichu. Since squirrels inspired the design of Pikachu, it is safe to assume that Pichu also originated from the same species.
While Pikachu can discharge electricity quite skillfully, the same is not the case with tiny Pichu. They often release jolts when startled and show a lack of control. They store small amounts of electricity in their cheeks and charge quickly on stormy days.
Was Ash's Pikachu Actually Special?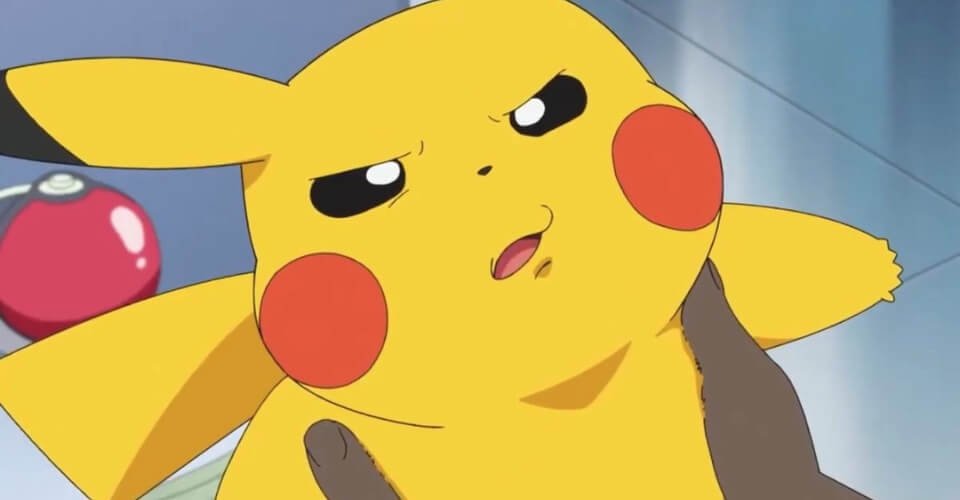 Ever since the first episode of Pokémon aired, we have been led to believe Ash's chosen Pikachu was special. Professor Oak warns him of a 'problem' but never specifies it. As the episode progressed, Pikachu's violent temper and outbursts were considered the 'problem.' However, is that really the only difference that Ash's Pikachu has?
Even Team Rocket admits that Ash's Pikachu is special, leading them to stalk the group and try to trap them in almost every episode. In the episode, when a horde of Pikachu was captured by Team Rocket, it was Ash's Pokémon that bit through the net and helped the others escape. His Pikachu is also shown to have more self-awareness than others, refusing to go inside the Poke-ball as a result.
Despite being in its lower form, Pikachu could even defeat Raichu in a second battle. Ash's Pikachu might be stronger, more agile, and unique because of his many experiences with Ash. He received lots of boosts during his early days. In the hospital fighting episode, he received charges from other Pikachu and even Misty's bike.
Pikachu has earned more real-life experience than other Pokémon because he is adamant about always staying with Ash, preferably on his shoulder. This has made Pikachu a formidable opponent and more special than all the other Pikachu in the Pokémon world.
The Creation of Pikachu
Pikachu was first publicized in 1996 when the Pokémon game was first published in Japan. Atsuko Nishida is the creator of the cute character, and Ken Sugimori later finalized the design. Nishida based the design of Pikachu and its electricity-storing cheeks off of squirrels.
The whole concept of Pikachu was based on its electricity type. When Pikachu was first designed, it had a rounder body where the face was connected with the torso. As the franchise kept developing, Pikachu got a slimmer waist, a straight spine, and more definition on his face and neck.
The early versions of female Pikachu didn't have much distinction from their male counterpart but were later modified to have a heart-shaped end on their tails.
Overall, Pikachu can be called the lifeblood of Pokémon, be it in the anime or game franchise. The cute yellow character is symbolic of the long-running series, and no one can dethrone it.
Which Pokémon do you like the best? Is it Pikachu or another classic Pokémon? Or is it a rare or legendary type? Tell us all about your Pokémon obsessions in the comments below.