Aka Akasaka's latest work, Oshi no Ko, has become a mega-hit overnight after its first episode aired last week. You can tell that the author has range based on the simple fact that her previous work was Kaguya-sama: Love is War, another popular rom-com series.
The first episode of Oshi no Ko was a shocker for many reasons. While some hand-picked anime get a one-hour special as their first episode, it's very rare for any anime to have a one-and-a-half hour-long debut.
Regardless to say, the first episode blew the minds of fans as it showed one plot twist after another. It also ranked #1 in MAL after its first episode aired.
The anime started with a no-name doctor cheering for his favorite idol, Ai Hoshino. His wish to meet her comes true unexpectedly when she turns up pregnant with two twins at his hospital.
The doctor supports her decision to have a family but is killed by a stranger. In the most bizarre twist possible, he is reincarnated as Ai's son, Aquamarine.
While Aqua wants to live out his childhood life in peace, the biggest tragedy in his life happens. Yes, bigger than his own death.
How Did Ai Hoshino Die?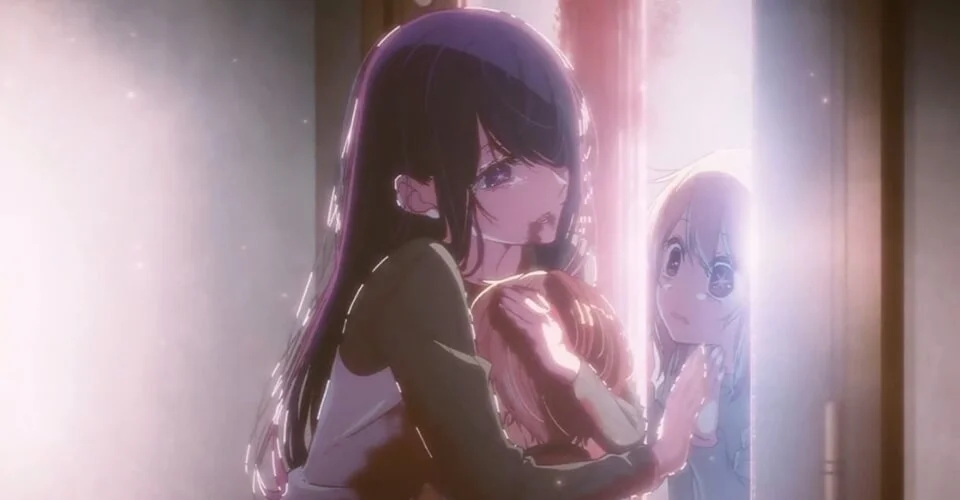 After quite some time into episode 1 of Oshi no Ko, Ai decides to meet up with the father of Aqua and Ruby. She calls him and tells him that their children have grown up and he should come to see them once. We only see Ai, who is on the other side of the call, and he is never revealed.
Ai then proceeds to give him her new address. Later, on an unassuming morning, a stranger rings the doorbell of the hotel room in which Ai and her kids are staying. Ai opens the door, only to get stabbed in the stomach. She slowly dies in front of Ruby and Aqua.
Who Killed Ai Hoshino?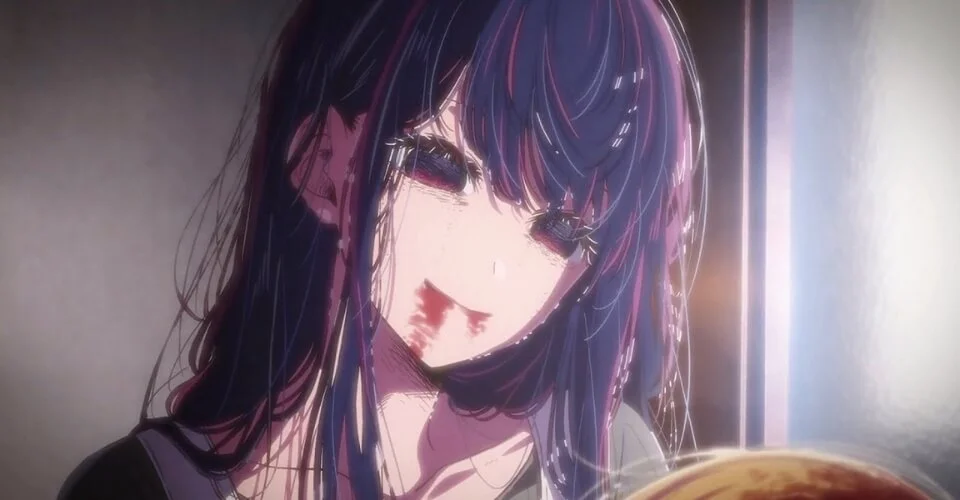 Ai's killer turns out to be her stalker, Ryusuke. After the stabbing, he claimed he had suffered more because it was more painful for him as a fan. He reasoned that Ai had betrayed her loyal fans by having children.
However, even in her dying moments, Ai assured Ryusuke that she loves her fans, and lying to them was how she showed her love. She even remembered his name and safely kept the gift that he had given her at a fan-meet event.
This made Ryusuke break down, and he ran away, and soon after, he committed suicide. However, the mystery doesn't end there, as the only person who knew about Ai's residence was Aqua and Ruby's biological father, to whom she had forwarded her address. Clearly, the address was leaked, making the mysterious lover the prime suspect.
[SPOILER ALERT]
Who Is Aqua and Ruby's Father?
Chapter 96 of Oshi no Ko finally reveals Aqua and Ruby's father. It is Hikaru Kamiki, a ruthless serial killer who targets female idols and is also responsible for Ai Hoshino's death.
Hikaru maintains a charming public image, which makes him less of a suspect in case of crimes. However, he targets innocent girls and makes them do his bidding before getting rid of them. He did the same with Ai and got close to her before orchestrating her death.
He often uses other people to kill his victims, just like he used Ryusuke to kill Ai. While he was afraid to kill by his own hands in the past, he has gradually become braver and can do it himself in the present.
Thus, Aqua has found his target to exact revenge on, and he now must face Hikaru and avenge Ai's death no matter what. It will be a long and arduous path, but Aqua has set his mind on his ultimate goal.