The exposé on Kim Hieora last week shed light on the dichotomy of being loved as a celebrity and hated by the victims of their bullying. When Dispatch revealed Hieora's bullying scandal, she turned from an overnight sensation to one of the most despised actresses.
Netizens pointed out the irony and expressed their disgust at how Hieora took the role of a bully in the hit series The Glory when she was a delinquent.
Some of the major allegations against Hieora included–
Extortion of money
Blackmail
Threatening and intimidation
Verbal attacks
Reportedly, she was a member of the notorious gang "Big Sangji" in her school. They bullied their juniors and dominated the class.
However, Hieora maintained that she never partook in the actual bullying herself and was just a bystander. She also stated that she initially joined the group to avoid getting attention because of her unconventional looks.
She even went further, claiming she tried to stop her mates from committing these acts. Moreover, her agency, Gram Entertainment, also denied all the allegations and pursued legal actions against the malicious comments against the Glory actress.
But now, new developments in this case have changed her rhetoric.
Dispatch revealed that Kim Hieora contacted three of her bullying victims on May 19. She then met with two victims and apologized to them in person. Apparently, they have forgiven her of her past mistakes. Hieora had reportedly apologized to them seven times. Dispatch has also mentioned that these victims were not their informants. A point to be noted is that her apologizing to the victims and admitting that she bullied them contradicts her earlier denial of all allegations.
Did Kim Hieora Apologize to 3 Bullying Victims 7 Times?
Dispatch revealed messages and call logs.
Kim Hieora texted the three victims–
"I hope you don't misunderstand me."
The victims visibly agitated over her insolence, replied–
"Then what do you call your actions of hitting us?"
But right after this text, Hiero took to her social media to deny all allegations. This tipped her victims over the edge, who told Dispatch–
"I want to believe in her sincerity when apologizing to me in May. I tried to forget the painful memories when I saw her tears. But seeing her denying the school violence allegation…. my heart hurts again. I want her to admit her faults."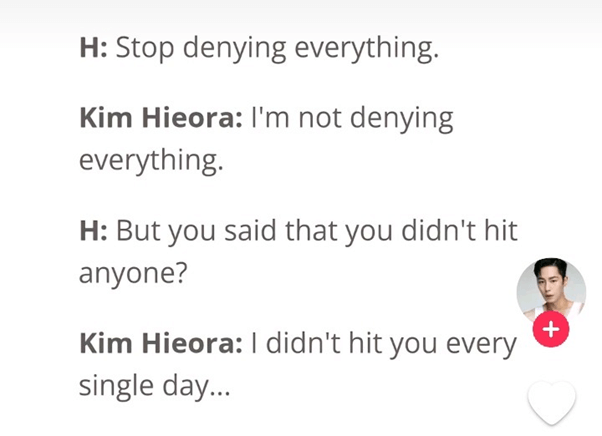 Hieora met with two victims and formally apologized to them seven times.
Dispatch dug out an old comment from the Family member of a victim– "Kids like you are hiding your past and openly doing activities. This interview is so funny. I'll reveal it one day when you become more famous".
Another victim expressed grievance over how the third parties slandered their name and diminished their trauma. The victim told Dispatch– "I didn't know that it would be this difficult to tell the truth. Why do the third parties come forward to slander and frame the victims? They didn't even know what happened to us…"
As it is, the victims have been facing anxiety over the years of bullying. And now, they even have to answer people doubting them.
On the contrary, there were also reports of classmates who came in support of Kim Hieora.
An OP posted on the online community–"Kim Hieora is not an iljin (bully) or a school violence perpetrator."
"I'm the same age as Kim Hieora. We were in the same class in high school although I was not very close to her."
"Kim Hieora was called 'Eora' among us and was a very famous kid in Wonju but not for being an iljin. She was famous for her unique dressing style and singing skills. She just stood out among those of the same age".
She further stated–
"We studied together at an academy. Kim Hieora approached me first and kindly greeted me, 'I'm also from the countryside.' Maybe it was because there was no other girl on the academy's bus. However, I still remember that I was wondering why a pretty girl came and talked to me".
"Kim Hieora asked why I always ate alone. I've been remembering her as a savior of my life. There were classmates who stole my phone and wrote text messages as a joke, but Eora never did such things."
The classmate also claimed that Hieora had no association with the bully gang. She stated in the post that–
"She hung out with some friends in a group called 'XX Fam', but it was not like an iljin gang. If she were an iljin, she wouldn't have helped an introverted friend like me. When we were studying at the academy, she always talked 1:1 to me cheerfully. The bullying rumors don't make sense to me at all".
What are your thoughts on this new information? Do you believe that Hieora has remorse for her actions, or was she cleaning up her act to lighten the blow of the controversy?
Do you think the classmate defending her is telling the truth? Let us know in the comments section below.