Eternal Boys season 1 is all set to start airing. This will be a great anime if you want some simple comedy and drama. Its new trailer video just came out on their official site, and the footage revealed many things from the main cast, theme song, and even the release date.
So, Here's everything you need to know about Eternal Boys. Firstly, This is a new anime. It's the first season, so many of you might not know about its plot or storyline. Take a look at a quick introduction to anime.
The story is quite simple: a group of men between 35 and 45 has experienced many different things in their lives. Failure, success, heartbreak, they've been through everything, but now they have decided to become an idol group.
It's not easy for them to become an idol pack because of their age and the fact that they are not physically fit. But these six men will still achieve their goals because they are determined and hard-working.
Check out the key visual of Eternal Boys.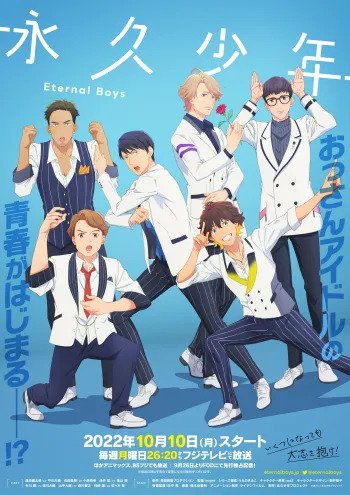 Trailer
The trailer is fun to watch, and that's because they show funny clips from the main anime. Our trailer starts with Kentaro Sanada, who looks at a picture and is quite surprised by how different he looks.
After the first clip, the rest of the group are introduced one by one, and they are also shown together as a group. This trailer focuses on their hardships and the training they are doing to become idols.
Being in an idol group is challenging. You have to look good, you have to dance well, and there are many more different things that you have to do. And in the trailer, we can see our Eternal Boys doing everything they can to become one.
The new trailer has also revealed the opening song, and it is called "Dreamy Life." The ending song is also shown, called "FRIENDS". Overall, the trailer is impressive and eye-catching. Its animation will attract people for sure.
Writers/Production Team
Kimiko Ueno is the scriptwriter for the anime. She is known for writing scripts for anime like BNA and Carole & Tuesday. Migmi is operating as a director and is known for anime like Hunter x Hunter (2011) as the assistant director.
LIDENFILMS will animate eternal Boys. The same animation company has animated Tokyo Revengers, Kotarou Lives Alone, Ryman's Club, Love and Lies, Akashic Records of Bastard Magic Instructor, and many more.
Ryo Tanaka will oversee the sound production, and Yukari Hashimoto will be in charge of the music.
Voice Actors/Main Cast
Now let's take a look at the main cast that we will see in the main anime, and we'll also tell you who will voice these characters. Without voice actors, or in Japanese, "Seiyu," any anime is incomplete as they give life to a character.
Daisuke Hirakawa as Kentaro Sanada
Katsuyuki Konishi as Naoki Ishida
Jun Fukuyama as Haru Asai
Daisuke Namikawa as Tsuyoshi Imagawa
Toshiyuki Morikawa as Daisuke Yamanaka
Nozomu Sasaki as Makoto Kakizak
Release Date
Now here's the most crucial question: when will Eternal Boys be released? Well, the good news is that we have the official release date. This anime is going to start airing on October 10, 2022.
It was already shown in the new trailer. Eternal Boys is going to have 24 episodes. It will premiere on Fuji TV. We don't have to wait much longer and believe me, you are going to love this anime. October is not so far; we have already passed half of September. Let's make this anime a great success by showing some love.
SOURCE: Official Website