The TV anime series Trigun Stampede will be broadcast via TV Tokyo in Japan from January 2023 onwards. The voice actors linked with the roles of Roberto De Niro, Meryl Stryfe, and Nicholas D. Wolfwood have also been revealed. Congratulatory comments have begun pouring in from fans all over the world.
The anime was announced in June this year, followed by the release of the 1st teaser as well as a PV image in July at the Anime Expo 2022 that occurred in Los Angeles, California. I guess this is a prequel to the original show and will give us a better idea of Vash's backstory.
Trigun Stampede Key Visual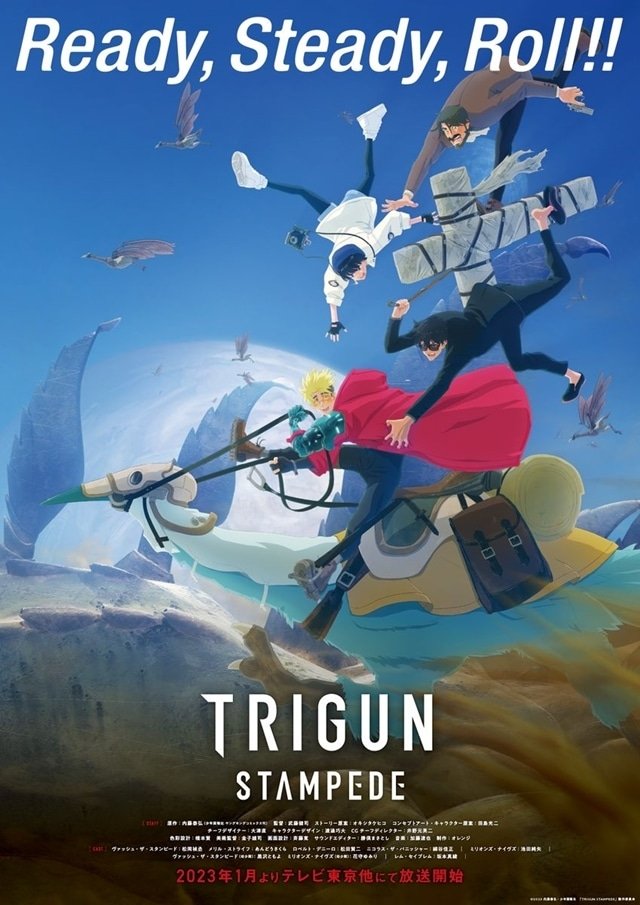 Trigun Stampede Trailer
This new trailer was released today morning. Feast your eyes on this.
As you can see here, Vash looks quite different compared to his appearance in the original series conceptualized in the late 90s. The usage of 3D is also widespread, which may affect how fans perceive the content. Orange is known for putting out CG-heavy content, so we must keep calm.
The character of Million Knives looks enticing enough. We also get a look at the familiar desert landscape and the ram-shackled buildings amidst a decaying civilization.
Main Staff
Director: Kenji Mutou (known for Beastars, Terror in Resonance)
Screenplay: Tatsuro Inamoto (known for One Punch Man), Shin Okashima, Yosihisa Ueda (known for Dragon Ball Z)
Character Design: Kodai Watanabe (known for One Piece), Tetsuro Moronuki (known for Bleach), Takahiko Abiru (known for Black Lagoon: Roberta's Blood Trail), Akiko Sato, Soji Ninomiya (known for Eden of the East, Blood-C), and Yumihiko Amano
Concept Design: Kouji Tajima (known for Attack on Titan, Gantz:0), Nao Ootsu (known for Kakegurui, Altair)
Music: Tatsuya Kato (known for Demon King Daimao)
Studio: Orange (known for Dimension W, Beastars)
License: Crunchyroll (global release)
Voice Cast
Yoshitsugu Matsuoka (in Bleach TYBW as As Nodt) as Vash the Stampede
Kenji Matsuda (in Toriko as Zebra) as Roberto De Niro
Junya Ikeda (in After the Rain as Takashi Yoshizawa) as Million Knives
Maaya Sakamoto (in Black Butler as Ciel Phantomhive) as Rem Saverem
Yoshimasa Hosoya (in Attack on Titan as Reiner Braun) as Nicholas D. Wolfwood
Sakura Andou (in Naruto Shippuden as Inaho) as Meryl Stryfe
About Trigun
A post-apocalyptic manga series that derives a lot of inspiration from violent Westers. The manga was created by Yasuhiro Nightow (known for Blood Battlefront Blockade) and ran Monthly Shonen Captain for a period of 2 years till 1997. The anime produced by Madhouse was unleashed in 1998, which is a testament to the popularity of this work. Crunchyroll and MVM Entertainment have licensed the series.
Are you hyped about this? Do you think there is a slight possibility that it might stream on other networks? Let us know how you feel in the comments section. Visit averagebeing.com for uninterrupted anime updates.