No matter how long it takes, the power of love can conquer any contest. The next installment in the Kaguya-sama series will soon debut on TV and streaming services. Prepare for a spell-bounding love adventure that is still far from conclusion, involving two of the smartest characters in the history of romcoms.
Coming after the Dual Confessions Culture Festival Arc in the manga, Kaguya-sama: Love is War -Ultra Romantic is the third season that had a premiere on April 9th. A special screening event was hosted by Aniplex of America at the Aratani Theatre, Japan Society in Los Angeles and New York, respectively. Fortunately for us fans, The final episode ran for around an hour.
In this part of the story, Miyuki Shirogane and Kaguya Shinomiya are finally able to gather enough courage and reveal their innermost feelings, i.e., a dual confession occurs. The next film, Kaguya-sama: The First Kiss Never Ends, will cover what happens after those moments and how their relationship progresses even though they have opened their hearts to one another. It can be said that their bond will remain ambiguous and only deepen throughout the movie. The two brainiacs must come to terms with their differences and move forward in love and life.
Announced via the official website, Kaguya-sama: Love is War – The First Kiss Never Ends movie is based on the manga arc of the same description and will have a special screening in Japanese theatres in winter this year before the TV broadcast begins. A visual was also unveiled, which depicts Kaguya, the titular female protagonist.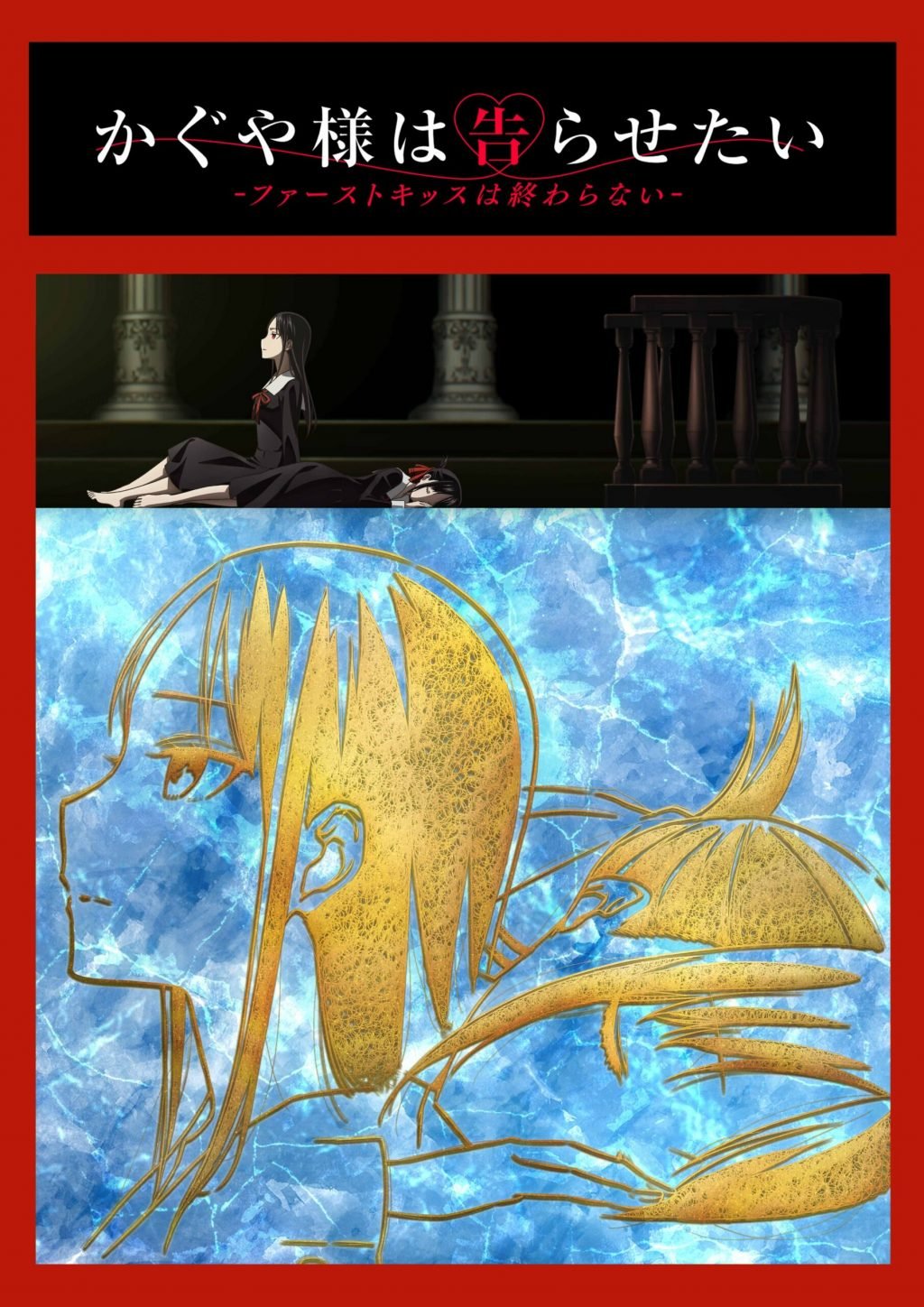 Voice Actress Aoi Koga Opens Up About Her Struggles With Kaguya-sama

Fans Also Read
Voice Cast
Aoi Koga as Kaguya Shinomiya
Makoto Furukawa as Miyuki Shirogane
Konomi Kohara as Chika Fujiwara
Ryota Suzuki as Yu Ishigami
Yumiri Hanamori as Ai Hayasaka
Miyu Tomita as Miko Ino
Kaguya-sama: Love is War
This complex love story is based on the manga by Aka Akasaka, which began serializing in Miracle Jump in 2015 and Weekly Shonen Jump in 2016. In 2019, this became one of the best-selling mangas, reaching over 4 million units (in sales).
So far, 26 tankobon volumes have been put together. The entire anime, which kicked off in January 2019, has had three seasons in total, with A-1 Pictures throwing their weight behind every project with tremendous vigor. I believe Shinichi Omata, who directed all three seasons as well as the previous OVA film, will also be at the helm of the upcoming venture. Aniplex and Muse Communication have licensed the series
The story focuses on young love blossoming between the student council president and vice president at the Shuchiin Academy. Miyuki and Kaguya develop feelings for each other, but their pride and ego create a hostile situation in which neither party ends up compromising. So the two decide to employ their wits to lay traps till one of them loses and admits how much they love the other person. It is an exciting and unique premise to romcom manga that is centered around confession and power-play.
Will you be watching the rom-com film that is sure to elicit laughter from the audience? Does it air in theatres near you? Let the averagebeing crew know your thoughts from the comments section.
Source: Official Website