JJK Chapter 199 leaks are out as the Sakurajima Colony Arc nears conclusion!
Jujutsu Kaisen is a manga that focuses on friendship, authoritarianism, and the power of negativity. It is about everlasting bonds, fighting against tremendous odds and forces far beyond one's control.
The latest chapter #199 has been published, but the translation will take a week to arrive. Till then, if you want, you can quench your thirst for horror and dark fantasy by enriching your perception with the information provided here.
Spoiler Alert: Proceed with caution, or else you'll be hit with a Domain Expansion
We see pictures and some info on Nobara's childhood buddies. This might be a sign that Kugisaki hasn't passed and may return to cause trouble for the enemies of Jujutsu High.
In this chapter, we circle back to Megumi's route. Itadori Yuji also returns for this issue, which is a clear highlight for fans as the main protagonist was gone for quite a while. There is no mention of Maki in this chapter after her takedown of Naoya showed that she had reached Toji Fushiguro's level.
Despite being underage, Yuji drinks wine while wearing a bathrobe. Takaba is hunting for meals so that they don't remain underfed. All four are inside a hotel room, i.e., Angel, Megumi, Yuji, and Takaba.
Angel's clearly states its goal is to take care of all the incarnated players. It says that most vessels get killed or submit to the vengeful spirit or curse, and that cannot be allowed as such incidents go against the foundations of God's rules.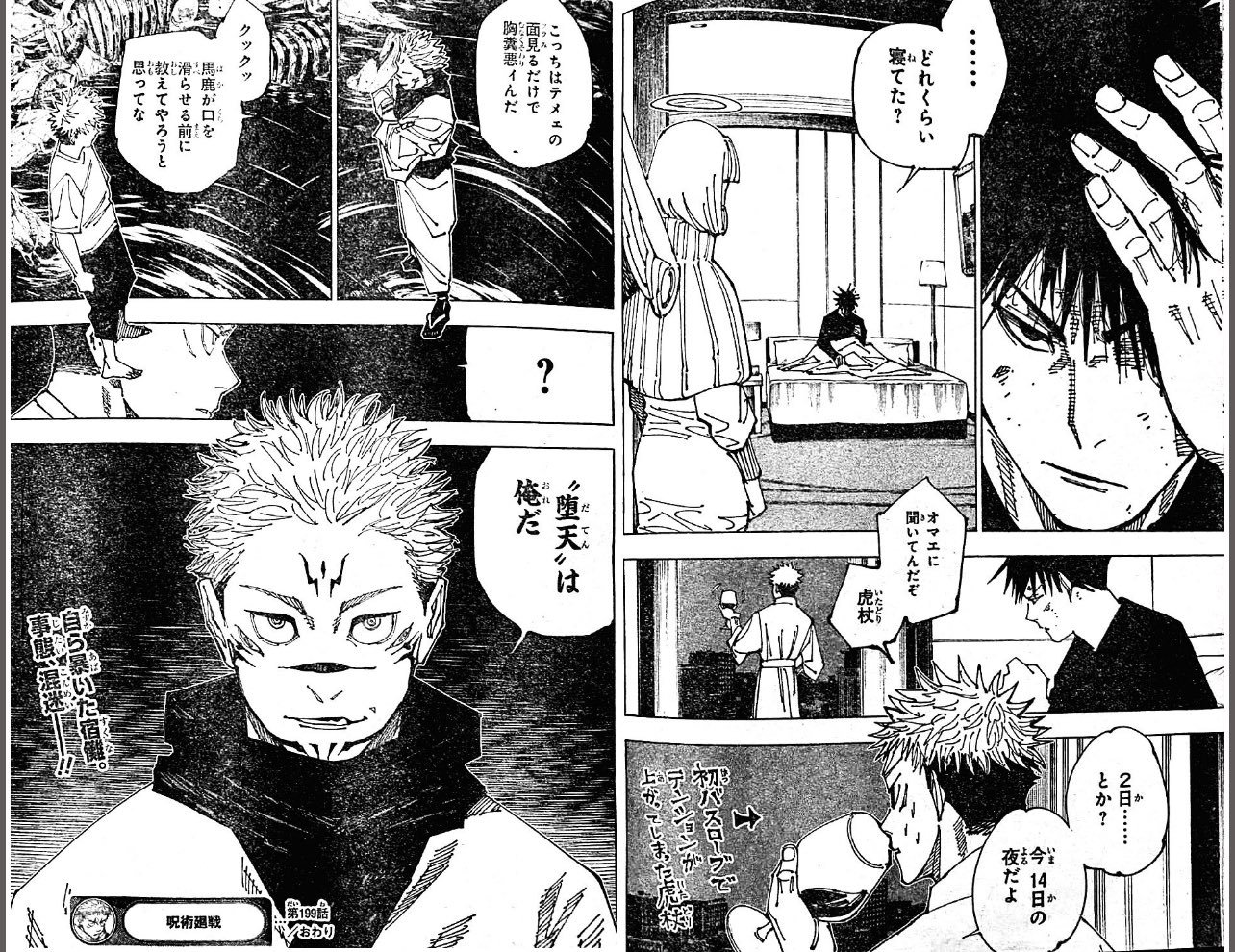 Hana tells Megumi and the others that she will unseal Gojo if the "Fallen Angel" is destroyed. Here comes the banger as the "Fallen Angel" is none other than the King of Curses, aka Sukuna, so Yuji may need to die to bring Gojo back. It is like you need the experience to get a job but will have to get a job to have that experience, but Sukuna also appears as he discusses with Itadori deep inside their psyche.
With the way the plot is progressing, it seems that Megumi, the head of the Zen'in clan, will be forced to make a compromise. He'll have to choose between Yuji and Gojo; the higher-ups have always wanted to kill Yuji for being Sukuna's vessel, yet Satoru won't be released anytime soon, and the Culling Game will continue if he isn't out.
It will be interesting to see if Megumi Fushiguro will choose Itadori as a sacrifice even though the two have fostered a deep bond (fist-bump moment recorded between the duo in the current issue).
Also, Hana Kurusu's body houses "Angel," who interacted with Sukuna in this chapter; the two mouths held a conversation that didn't seem fruitful in the end. Kurusu's technique will allow her to unseal the back of the Prison Realm Gojo is trapped inside.
Jujutsu Kaisen Season 2: Key Visual, Teaser, Mysterious Counter

Fans Also Read
Jujutsu Kaisen
Conceptualized by self-professed Bleach fan Gege Akutami, Jujutsu Kaisen follows the story of a teenager named Itadori Yuji who encounters a sorcerer Megumi Fushiguro while trying to save his schoolmates from the clutches of a monstrous curse. Yuji then becomes the vessel for Sukuna, an ancient Curse who was feared by all aware of him. After receiving Satoru Gojo's lessons, Yuji learns to work with his classmates at Jujutsu High and "save people," which was his grandfather's final wish. The manga serializes in Weekly Shonen Jump and has had 20 tankobon volumes compiled till now.
A new visual was released not too long ago, which depicted Suguru Getou and Satoru Gojo inside a metro, with several key characters in the background. The following season will cover Gojo's past, including the elusive Toji Fushiguro and Getou. The animators will also cover the Shibuya Incident Arc, as the old voice cast is slated to return. MAPPA will animate these two arcs consecutively over two courses in 2023.
Are you excited about Yuji and Megumi's return? What do you think of Fushiguro's dilemma and the direction Jujutsu Kaisen is progressing towards? What are your thoughts, on the whole, on destroying the Fallen Angel to unseal Gojo? Do hit us up with comments down below.