Although Mitsuki finished writing Hinako Note manga way back in January 2021, its lead character Sakuragi Hinako has found herself enjoying better days.
Sakuragi Hinako is now pregnant, reveals Mitsuki, the creator of Hinako Note manga.
The manga ended in January 2021.
Hinako Note follows Hinako, who struggles to talk to others, all while having an interest in theatre.
Hinako Note anime has 12 episodes released in 2017.
A week ago, Mitsuki posted an illustration revealing that Hinako is actually pregnant! The image had a caption that read, "Ah! It moved just now!"
The story of Hinako Note revolves around Sakuragi Hinako, who lacks proper communication skills and lives in rural regions of Japan. Hinako wants to pursue a dream in theatre and therefore moves to Tokyo to attend Fujiyama High School, where she joins a theatre club.
Upon reaching Tokyo, Hinako finds out that her High School is a secondhand bookstore, and a girl who loves eating books lives there.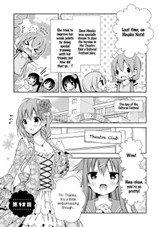 The four-panel manga by Mitsuki was launched alongside Media Factory's seinen manga magazine Comic Cune within-a-magazine supplement for four-panel manga in Kadokawa's Monthly Comic Alive magazine in August 2014.
After Comic Cune became a standalone magazine in August 2015, Hinako Note got relocated to a new magazine. A total of seven Tankōbon volumes of the manga were published between August 27, 2015, and March 27, 2021, by Kadokawa.
The Hinako Note anime ran for 12 episodes, adapted from Mistuki's original Hinako Note manga by Passione between April and June 2017.
Well, what do you think about Hinako's new journey as a Mother? Have you finished reading the Hinako Note manga yet? Who knows? It's your call to get into different stories and anime genres. Do tell us your thoughts in the comments, and make sure to visit averagebeing.com for more such exciting manga/anime updates!