When the new age comic book movies were to be made, the role of Superman was to be taken over by someone equally charming as Clark Kent.
Fast forward to 2022, Henry Cavill is the guy everyone's getting head over heels for, and we just can't imagine another actor playing the role of Superman. He's been making headlines for his upcoming cameo in Black Adam, that's said to be the biggest DCEU film of the year. But this news report is different.
Oh, please! Hundreds of articles you read online have told you the same thing and ended up talking about how Henry Cavill's appearance in Black Adam is confirmed, Dwayne Johnson fought to bring him back in the cape, and so on. We get it now! Everyone knows that already.
Black Adam: Dwayne Johnson Has Already Confirmed Henry Cavill's Superman Return

Fans Also Read
So, yeah, this isn't about Black Adam. Let's rewind the clock to 2011 when Henry Cavill was going through the production stages of the film Man of Steel. Here, we've got some photos of him wearing the test suit for his role as Superman, courtesy of Propstore, which made this available to the public.
This collection of concept suit designs and photos is to be auctioned off as part of Propstore's four-day Entertainment Memorabilia Live Auction on Sunday, November 6, 2022. Marked as Lot #1148, the collection boasts 30 never-seen-before initial suit design photos from Zack Snyder's 2013 movie Man of Steel.
Created and printed by Frontline Design, this lot has everything that a true fan could ever ask for. Inspiration images from comics, maquette photos, hair and makeup photographs of Cavill, and test photos of suits on mannequins and Henry Cavill himself.
Earlier, photos of Henry Cavill in a concept muscle suit were floating on the web, but these photos hit differently. High-resolution photos, with notations, dates, and attributes to illustrators like Warren Manser.
The initial muscle suit in the movie went through two variations, the latter being selected with more of a subtle approach. The pieces of the suit comprise chrome urethane to some extent. (Obviously not a garment expert, but okay!) The actor is covered with a thin leotard on his arms and legs for added flexibility. Just you know, a leotard is a one-piece skintight garment worn by gymnasts, acrobats, and wrestlers.
Following that, the muscle suit you see next to that is the one they went with for Batman v Superman: Dawn of Justice. This was confirmed by Doug Stuart, the artist who worked on the costume. Doug is the same artist who has worked on costumes for Batman Forever (1995), Batman & Robin (1997), and Batman's nightmare costume for Ben Affleck in Batman V Superman: Dawn of Justice (2016). With a lot more bulk added to the abs and other muscles of the suit, this suit enhances Henry Cavill's frame as he stands against Ben Affleck's Batman in the movie.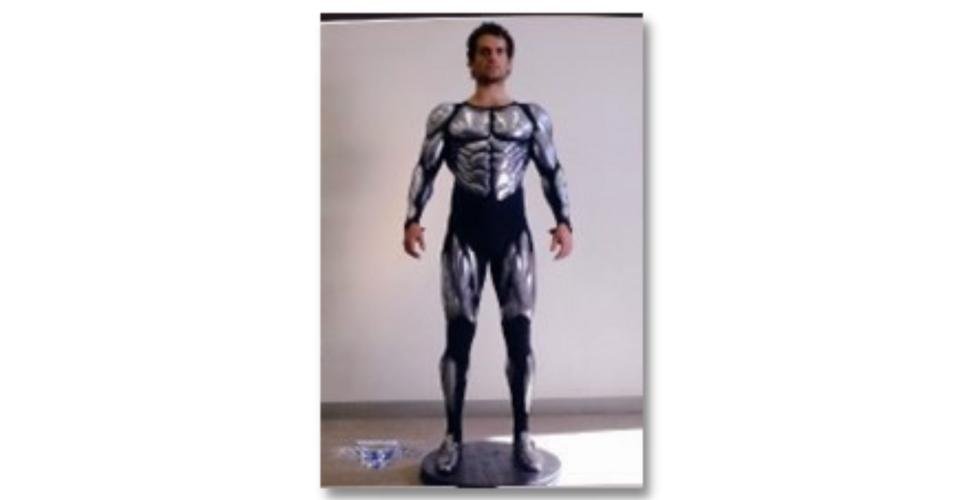 Heading to some familiar photos, we see the initial suit design for Superman resembling what we saw in the movie. The suit consists of lines on the bottom of the actor's chest, sort of like Martian Manhunter in the DCAU, continued on the hope emblem in the center. Take a closer look at the emblem, and you'll find the colors of the emblem from the initial designs of Fleischer Studios' Superman (1941) sporting a black and red color scheme all along.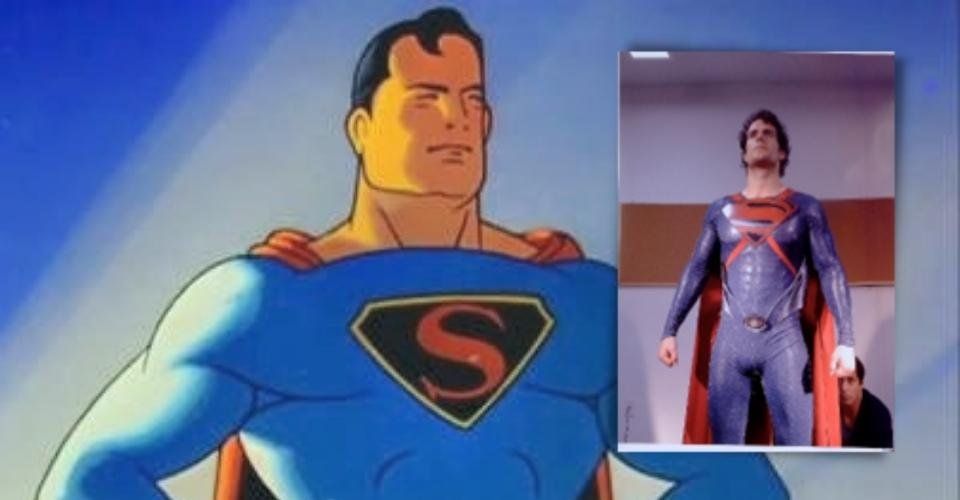 Some photos of the base suit out in daylight are also in the collection, making it easier for the artists to get an idea of how the suit will look in natural lighting conditions.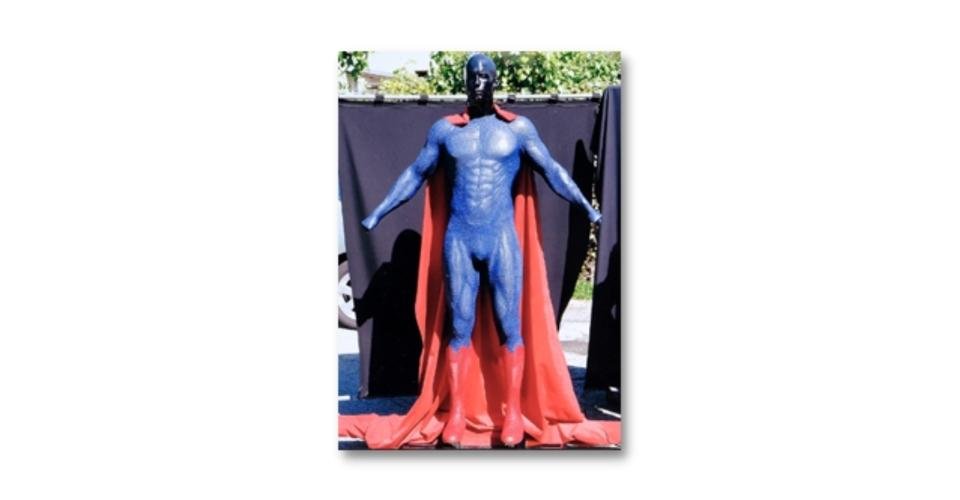 Also, there's one photo that has everyone's eye on it. Possibly the first time something like this with Superman has come out. His cape is drawn over the shoulders, similar to what's been noteworthy of Batman's cape in the animated series.
Probably the money shot for all the Henry Cavill fans out there. Just him with that happy-go smile from ear to ear. Look how happy he is drawing the suit of hope!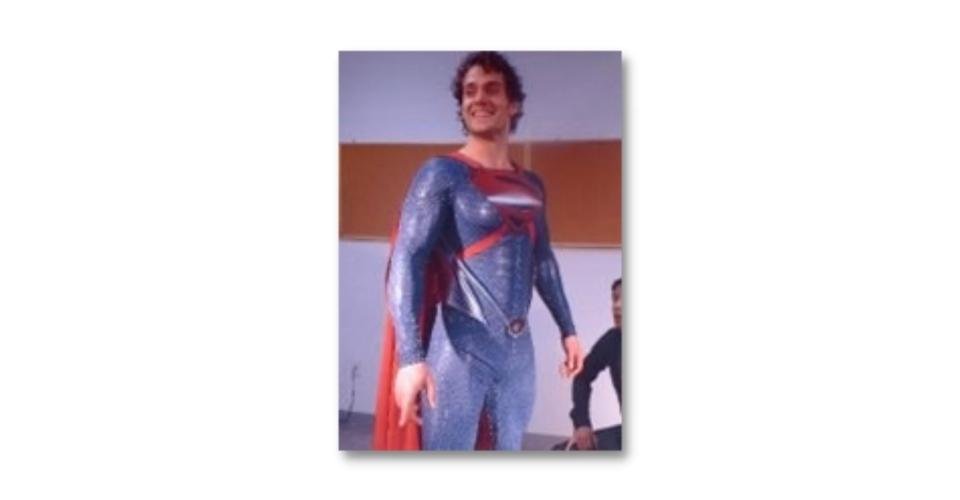 And the one for the nerds out there. For some reason, this photo gives off a major Tobey Maguire's-Peter Parker-designing-his-suit kind of vibe. Who knows? They found Clark Kent's notebook, eh?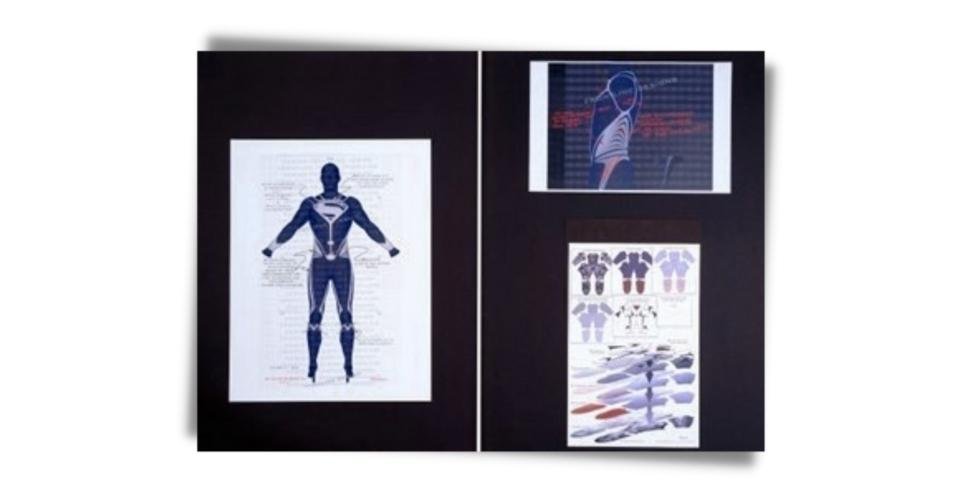 Some more of them to feast your eyes on. Take notes, cosplayers!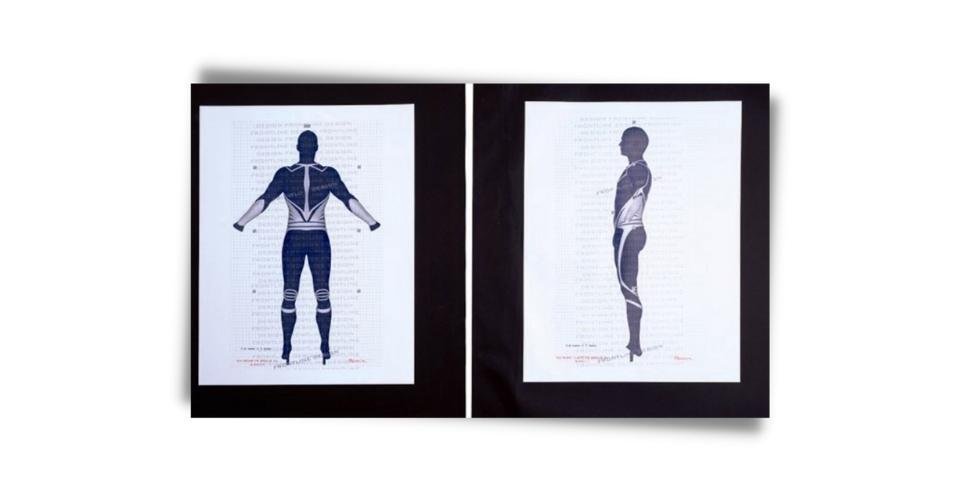 These photos in the collection are of Dimensions (each): 63.5 cm x 94 cm (25″ x 37″). As per the reports, the collection of designs and photos is expected to sell anywhere between US$2,200 and US$3,300 (£2,000 – £3,000).
So there you have it, folks! You can also check out Cosplay Chris' video on Youtube, where he talks in detail about the costume and the photos in the lot.
What do you think about these photos? How well do you think the final suit design came out for Man of Steel? Do tell us in the comments!
Source: Superman Homepage