It's just another day at DC Studios HQ when fans have decided to cancel another collaborative partner getting stuck in the 10-year roadmap tantrum that CEO David Zaslav gave the nod to. Look no further away as "Cancel HBO Max" exploded on Google search moments after Henry Cavill's exit as Superman was announced.
DC Studios CO-CEO James Gunn is reportedly working on a New Superman script and told fans Henry Cavill will not reprise his role as Superman.
Cavill also confirmed the news on his Instagram post, meeting James Gunn and Peter Safran ahead of DC's 10-year plan.
Searches for Cancel HBO Max surged after Henry Cavill's exit as Superman.
Henry Cavill might play another DC character in the future.
If you're a DC fan, the past few days haven't been so kind to you. One after another, some creative professional from the DC/Warner Bros. bubble announces something, and things slide sideways. It's getting common as we speak.
It was only yesterday when Wonder Woman director Patty Jenkins' return for WW3 fell into the pit of uncertainty, and today it's Superman. Remember how back in October, Henry Cavill was all over the news for returning as Superman?
Fast forward to December, and co-CEO James Gunn challenged the hierarchy of power, scrapping the Man of Steel 3 project in the hopes of delivering a new young Superman to the world. What next? Cavill, dawning the Superman cape, becomes a distant dream for many.
Obviously, this didn't sit well with the fans, and as consumers, they collectively decided to put HBO Max in the center of it. If you're one of the execs at HBO Max, you might not want to scroll past this section.
HBO Max: Its Rewind Time
Back when The Peacemaker appeared on HBO Max, the series shattered the company's streaming records, gaining new subscribers as John Cena and James Gunn did their job exceptionally well. But today, because of James Gunn, the subscriber count might register a sharp downfall to what it was before The Peacemaker existed, breaking records left, right, and center.
A while ago, the keyword "Cancel HBO Max" saw a 4055.93% spike in Google search trends as soon as Henry Cavill left the red cape, and according to Google Search Data, This might be huge as it is well on track to being the all time high searches to cancel HBO Max subscription.
Here, see how these regions shook HBO HQs to the core:
| | |
| --- | --- |
| Region | Search Volume (%) |
| United States | 100% |
| Canada | 50% |
| United Kingdom | 40% |
Queries of angry fans also registered a surge of 620% for the keyword "How to cancel HBO Max subscription."
Cancel Culture and DC: A Saga
If you thought only HBO Max was at the forefront of the heat, wait till you see the massive increase in search volume for "Cancel DC" with a sharp 7131.7% increase in the last few hours.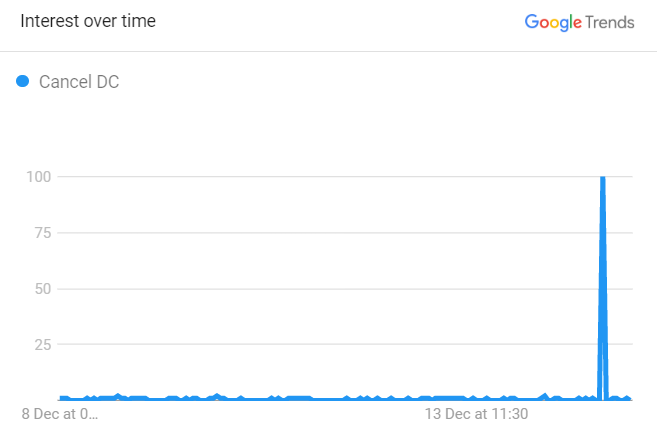 Take a look at these countries leading the cancel wave to throw DC out of the water.
| | |
| --- | --- |
| Region | Search Volume (%) |
| United States | 100% |
| United Kingdom | 34% |
| India | 16% |
Snyder The Saviour: Black Superman Ruling The Search Trends
It's no surprise that DC fans love Zack Snyder and how every DCU narrative shifts the focus to his universe-building credibility. SnyderVerse has a separate fan base, and we all remember how the #RestoretheSnyderVerse movement brought Warner Bros. to its knees. It looks like everyone has again turned up to Snyder's version of Black Superman as the symbol of hope for DCU heading toward its downfall.
Searches for "Black Superman" saw a 5754.8% increase in no time since the new Superman story came to light.
Take a look at Black Superman and Snyder fans all across various regions:
| | |
| --- | --- |
| Region | Search Volume (%) |
| Nigeria | 100% |
| Zimbabwe | 97% |
| Zambia | 50% |
| Uganda | 47% |
| Ghana | 47% |
| South Africa | 38% |
| Kenya | 35% |
| Myanmar (Burma) | 29% |
| Philippines | 28% |
| United States | 26% |
For some fans, it was still hard to digest Henry Cavill's departure as Superman as searches for the keyword, "Is Henry Cavill Still Superman" shot by 250% amidst the news. Fans living in the US were too quick to conclude DCEU's future as "Is DCEU Dead" gained a dramatic 12600% increase in a matter of hours. The search volume in the United States is 100% at the time of writing.
Who Is The New Superman?
As heartbreaking as the news of Henry Cavill parting ways with DC is, there's still a lot of speculation on who will be taking up the Superman's mantle as James Gunn writes a young Superman story. James Gunn tweeted on Wednesday about the current direction the studio is heading towards.
"Peter & I have a DC slate ready to go, which we couldn't be more over-the-moon about; we'll be able to share some exciting information about our first projects at the beginning of the new year," tweeted the DC Co-CEO James Gunn.
"Among those on the slate is Superman. In the initial stages, our story will be focusing on an earlier part of Superman's life, so the character will not be played by Henry Cavill."
However, in the recent trend of expanding cinematic universes and with the introduction of the multiverse, Gunn saw an opportunity to tease the inclusion of Cavill as a different character in DCU as the story progresses.
"But we just had a great meeting with Henry and we're big fans and we talked about a number of exciting possibilities to work together in the future," said Gunn on his Twitter.
Is Henry Cavill Still Superman?
The straightforward answer is no. Peter Safran and James Gunn recently met Henry Cavill to discuss the termination of his contract as Superman and the possibility of casting him in another DC comic live-action adaptation for future projects.
Henry Cavill shared a post on his Instagram hours ago to confirm the reports of him in talks with DC Co-CEOs Gunn and Safran. The post read, "It's sad news, everyone. I will, after all, not be returning as Superman. After being told by the studio to announce my return back in October, prior to their hire, this news isn't the easiest, but that's life," Cavill wrote. "I respect that James and Peter have a universe to build. I wish them and all involved with the new universe the best of luck, and the happiest of fortunes."
As for the story Gunn has been working on, Variety reported Clark Kent as a cub reporter in the fictional city of Metropolis along with an encounter with his colleague Lois Lane. Additionally, Gunn's project might co-exist or build upon J.J. Abrams-Ta-Nehisi Coates's Superman concept, which is still in active development.
It's only a matter of time before Peter Safran and James Gunn gives the audience a clear picture of what's actually happening with DCU and what more fans can expect regarding the Trinity and other future projects previously announced.
Well, that's about it, folks! Tell us your thoughts on Henry Cavill's departure as Superman. Which actor would you like to play the character in James Gunn's script? Do tell us your thoughts in the comments, and make sure to visit averagebeing.com for more DC updates!