Since its release, Blue Lock has been in the spotlight for the thrill and passion it reignites in football enthusiasts. You might know the sport as soccer in America or football in the rest of the world. But the one thing that never changes is the immersive experience this sport brings to the table.
That is why Blue Lock is so well-received globally. Not only does it showcase passion and intensity, but it also delves into the psychological aspect of the sport.
With the characters' unique abilities flaunted as superpowers, the appeal of Blue Lock skyrocketed, landing it a collaboration with Japan's national football team during the FIFA World Cup 2022. Since then, Blue Lock has only been marching forward.
That aside, the Blue Lock anime has only 24 episodes. And you might want to watch something similar to get that immersive viewing experience again. That is why; I have created a list of anime similar to Blue Lock, which excels in animation, engaging storyline, and a strong cast of characters.
So, without further ado, let's dive right into the 15 best anime like Blue Lock.
Table of Contents
Survival Anime Like Blue Lock
#15 Tomodachi Game
Number of Seasons: 1
Number of Episodes: 12
Studio: Okuruto Noboru
Even amongst financial hardships, Yuuichi Katagiri cherishes his friends more than money. That's why he collected funds for an expensive school trip. Yuuichi is close friends with Yutori Kokorogi, Tenji Mikasa, Shiho Sawaragi, and Makoto Shibe.
But when the school trip fund gets stolen from Shiho and Makoto, the group of friends gets distanced. However, days later, all the friends gathered in front of the school due to mysterious letters sent to them.
Following this, they were knocked unconscious and soon found themselves trapped in a room. They soon meet a suspicious individual named Manabu-kun, who resembles a gaming character.
Manabu-kun tells him that one of their friends has gathered them here to pay off a 20 million debt by playing games. Although the games are simple, the consequences aren't.
Friends or Money? Who will be the ultimate winner following these mind-bending games?
Why We Recommend:
How far can one go to achieve their goals?
Tomodachi Game and Blue Lock answer the question by showing these characters' true colors by pushing their backs against the wall.
In both these anime, the characters are being monitored, while the one(s) monitoring them explains the reason behind a particular action by illustrating the human psyche in detail.
Blue Lock shows the cutthroat world of football. And Tomodachi Game depicts the ugly reality of the stereotypes formed in society.
#14 Kaiji: Ultimate Survivor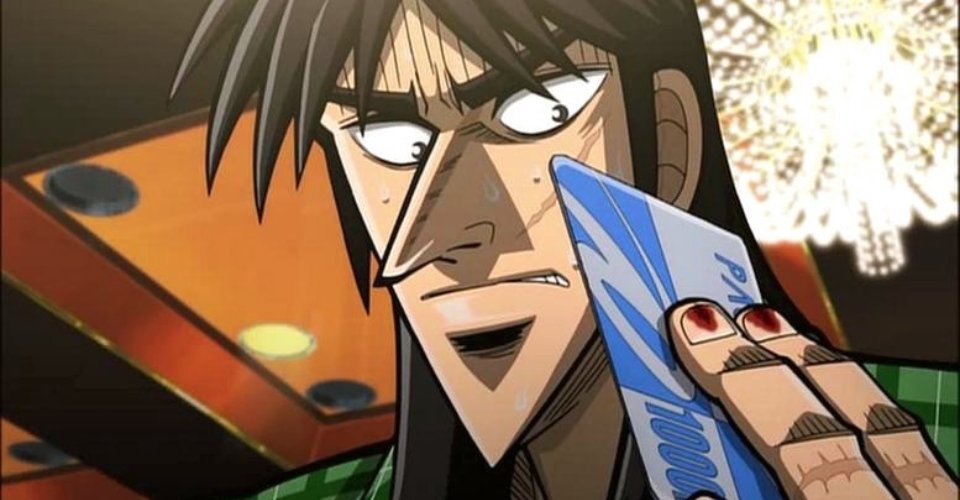 Number of Seasons: 2
Number of Episodes: 52
Studio: Madhouse
Kaiji Itou is a bum who got tricked into cosigning a loan by his coworker, who is nowhere to be found. And as a result, the loan sharks have come knocking on his doorstep.
Not having a cent to spare, he was advised to board a ship that is said to clear the debt in a single night. Upon hearing this, Kaiji boards the ship and takes the gamble of risking everything but soon finds out that hell awaits.
A tournament is held where he has to keep winning, and if he loses, lifelong slavery awaits. Surrounded by people desperate for money, Kaiji has to find a way to get out of this hell filled with lies, deceit, and betrayal.
Why We Recommend:
The similarity between Kaiji: Ultimate Survivor and Blue Lock lies in the theme of "Survival of the Fittest."
In Blue Lock, if a player cannot reach the next level, not only is he expelled, but his football career ends too. Meanwhile, in Kaiji, if the player loses, slavery awaits, there's no other way around it.
Another similarity is the psychological battle; the one with the better strategy wins the game in Blue Lock and Kaiji: Ultimate Survivor.
Deceit and betrayal are common occurrences in these anime.
Competitive Anime Like Blue Lock
#13 Kakegurui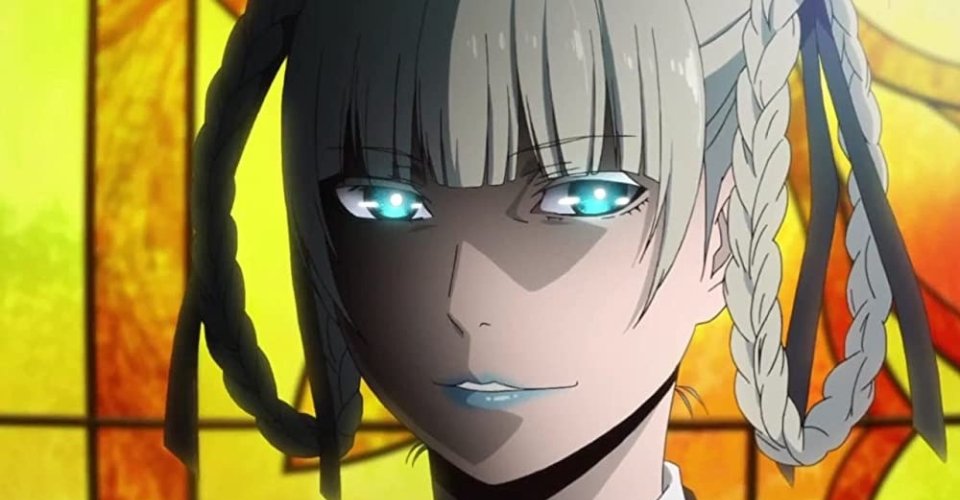 Number of Seasons: 2
Number of Episodes: 24
Studio: MAPPA
Hyakkaou Private Academy is a school for the elite. Intelligence or being good at sports doesn't matter. The school teaches its students to deal with people and money.
During the day, it is like any other school, but come night, it becomes a gambling heaven, depending on who wins. Because the winner lives like a king, and the loser has to get the worse part of it.
Yumeko Jabami is a new transfer student who is naive from the looks of it. Not many saw it coming when Yumeko took down one high-ranked opponent after another, drawing attention from students of the top echelon.
Although someone naive would get anxious about the attention, Yumeko isn't your regular student. She is a gambler at heart, the type that loses her mind while gambling.
Why We Recommend:
The ranking system is one of the similarities between Kakegurui and Blue Lock. The ones in the higher echelon rule the academy in these anime, where stakes are always high. Either you win and proceed, or lose and let go of everything.
The psychological warfare during the matches in both Kakegurui and Blue Lock results in extreme situations where the ugly side of a character comes to life. They give us the expressions a human can't possibly recreate.
#12 Classroom of Elite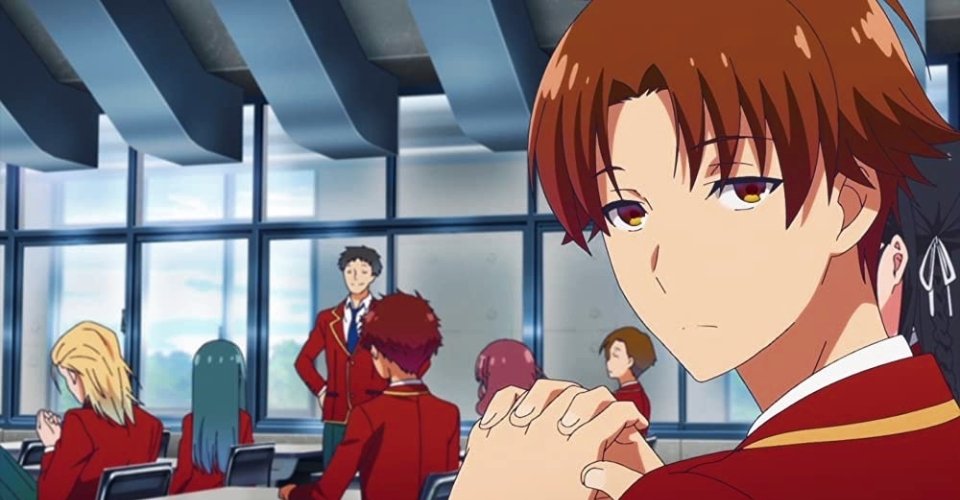 Number of Seasons: 3 (S3 Upcoming)
Number of Episodes: 25
Studio: Lerche
Koudo Ikusei Senior High School is a prestigious school in Japan, renowned for the freedom provided to the students and 100% employment upon graduating. Well, at least what it looks like from the outside.
In reality, the students are divided into four classes from A to D based on their merits, and the higher ranking ones always get favorable treatment. As you can already tell, D is for the problematic ones, known as the dumpster of the school.
Kiyotaka Ayanokouji enrolls in high school and ends up in Class 1-D. Another student named Suzune Horikita, who also joined Class 1-D, believes that her enrollment in Class D is a mistake. She is determined to climb the ranks of Class 1-A.
But, what awaits them is deception, betrayal, and other methods that can help either of the students to get an edge over the others. The true nature of the school's education system gets revealed.
Why We Recommend:
In Blue Lock, players get ranked. And this determines the food they will receive. Similarly, in Classroom of Elite, the students are ranked based on their academic performances, and the highest-ranking ones get favorable treatment.
While the mind game is an integral part of Classroom of Elite, in Blue Lock, there are mind games, but only during the matches. Anything is allowed until you bring in the desired results, showcasing the desperation in climbing the ranks.
#11 Food Wars! Shokugeki no Soma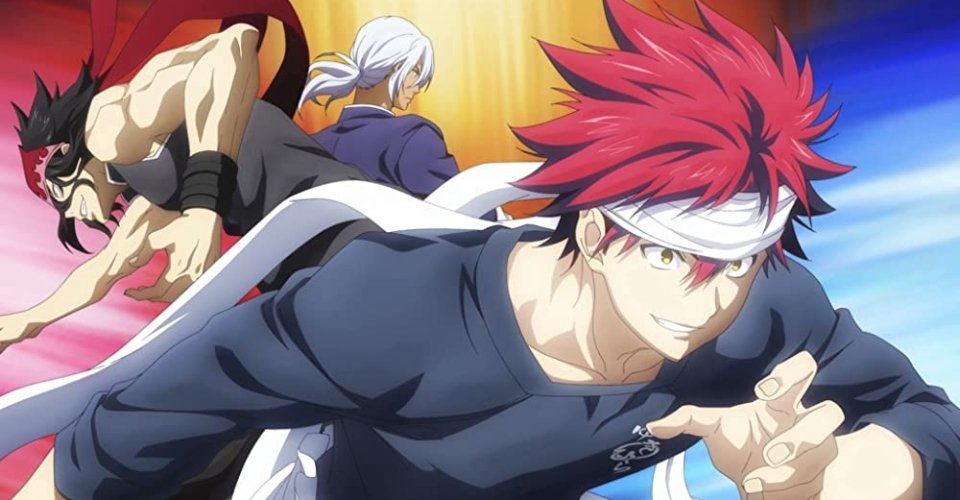 Number of Seasons: 5
Number of Episodes: 86
Studio: J.C.Staff
Fifteen-year-old Souma Yukihira works as a sous chef with his father in their family-owned restaurant. Souma's expertise is in the creation of new dishes to entertain customers.
Souma has been cooking for as long as he can remember. His dream is to take over the restaurant by surpassing his father in cooking skills. Little did he know, his father would soon close the shop and send him to Tootsuki Culinary Academy, where the graduation rate is only 10 percent.
In this culinary academy, every dispute is settled through "Shokugeki" or "Food Wars". Can Souma withstand the extreme lifestyle of the academy and survive three years? Because that is the only way he can surpass his father in cooking skills.
Why We Recommend:
In Food Wars and Blue Lock, the characters enroll in a prestigious academy with a ranking system based on performance. In both anime, selfishness is appreciated more than teamwork.
Realizing your true potential and working on it will not only make you the best, but it will also take the team to new heights. However, the most common thing these two anime share is the intensity of the matches in Blue Lock and food wars in Food Wars.
Sports Anime Like Blue Lock
#10 Eyeshield 21
Number of Seasons: 1
Number of Episodes: 145
Studio: Gallop
Sena Kobayakawa is shy, making him a target for bullies since childhood. For that reason, he has also developed a talent for running away, and avoiding people, even in huge crowds, without colliding.
After enrolling into Deimon High School, Sena faces a new group of bullies, and this time too, he runs away at the speed of light. And at that very moment, he was noticed by the Deimon High American Football Team's Captain, Youichi Hiruma.
Deimon Devil Bats were struggling. Sena's addition to the team seemed to be the only way to turn the tables and win the Christmas Bowl, an American football tournament for the best teams in Japan.
Though Hiruna pressured the indecisive Sena into joining the team, he kept Sena's identity a secret from other recruiters with a visored helmet and the nickname, Eyeshield 21.
Why We Recommend:
Although the types of sports in Blue Lock and Eyeshield are different, both are team sports. In these anime, the characters have abilities that are depicted as superpowers to make the viewing experience more entertaining.
The matches in these anime are quite similar in terms of building strategies and playing by their strengths.
Both Sena and Isagi have a strong vision, with which they can see the route through the opponent players toward the goalpost.
#9 One Outs
Number of Seasons: 1
Number of Episodes: 25
Studio: Madhouse
Toua Tokuchi could have been a pro baseball player but uses that talent to gamble in "One Outs," a faceoff between the pitcher and one batter. The winner takes it all.
Astonished by his talent, Kojima Hiromichi, a pro baseball player, scouts Toua to help their unsuccessful team win the championship. But for the owner, selling the underdogs was of utmost importance. Because of this, he saw Toua as a threat.
Well aware of the owner's love for money, Toua proposes a lucrative deal to join the team. With every out, Toua gets five million yen, while with every run he gives, Toua loses fifty million yen.
And, just like that, he becomes part of a pro baseball team. But the question remains. Can Toua, the gambler, lead the team to the top in the real game of baseball?
Why We Recommend:
The main similarity between One Outs and Blue Lock is the psychological element of sports which focuses on strategies and showcases how the players read the field and use it to their advantage.
In both anime, there is a strong presence of ego. While in One Outs, the protagonist is a complete egoist, in Blue Lock, the characters are training hard to become true egoists.
#8 Haikyuu!!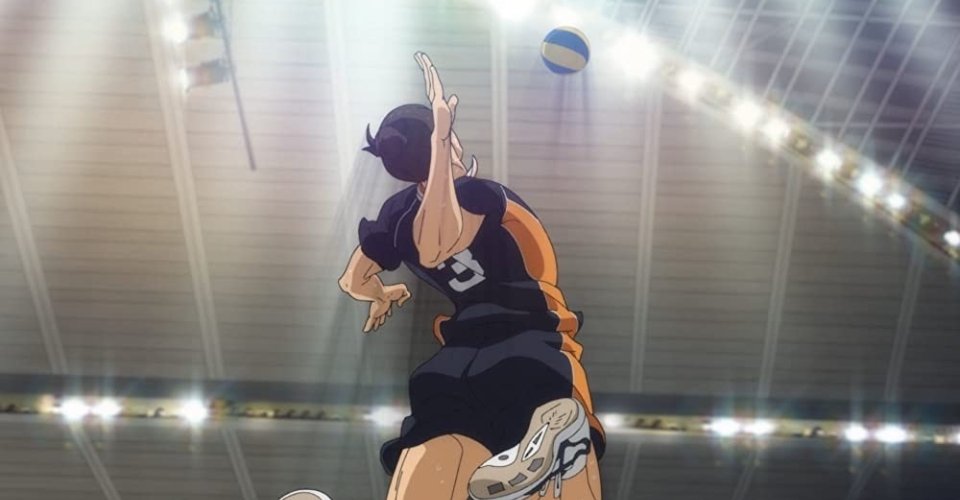 Number of Seasons: 4
Number of Episodes: 85
Studio: Production I.G
One day middle school student Shouyou Hinata stumbled upon a volleyball match on TV. Bewitched by the skills of the ace nicknamed "Little Giant" on the volleyball court, small-statured Hinata revived the school's volleyball club. He also formed a team with friends from different clubs.
While he participated in a middle school tournament with dreams of winning, the inevitable happened, his team lost.
After graduating, Hinata enrolls in Karasuno High School, the school that Little Giant represented. However, he didn't expect Tobio Kageyama to be his teammate. Kageyama is the one who crushed Hinata's team in the middle school tournament.
Although their egos clash, Kageyama and Hinata soon realize that to reach the top, they need to work together as a team, setting aside their differences.
Why We Recommend:
As players, both Hinata and Isagi were dependent on their teammates. While Isagi depended on Bachira for pinpoint passes, Hinata depended on Kageyama for perfect tosses, so much that Hinata even closed his eyes for a handful of matches when spiking.
Eventually, they learned about their weaknesses and started working on them to become complete players.
Both Haikyuu and Blue Lock have intense matches where the characters find ways to defeat formidable opponents during the matches, which shows the psychological aspect of sports.
#7 Ace of Diamond
Number of Seasons: 3
Number of Episodes: 178
Studio: Production I.G, Madhouse
Eijun Sawamura is a southpaw with unusual pitches. Unfortunately, one of these pitches cost his middle school team a final game. However, his hidden potential got him scouted by the prestigious Seidou High School.
Although he promised his teammates to win the national tournament in high school, Sawamura was encouraged by them to enroll in Seidou High instead.
Reaching there, Sawamura declares that he will become the ace but soon finds out that he isn't the only one with talent. If that was not enough, he finds out that he has to surpass his fellow first-year teammate Satoru Furuya, whose fastballs are polished enough to earn him a spot in the playing roster.
Why We Recommend:
Ace of Diamond's Sawamura and Blue Lock's Isagi lost an important match, following which they got invited by the prestigious academy for their respective sports.
Both realized their shortcomings and devised plans to overcome them and become the strongest. For Sawamura, it was becoming the baseball team's ace, while for Isagi, it was becoming the best striker in the world.
Psychological warfare is portrayed through nerve-racking matches where every second feels like an eternity.
A group of well-written supporting characters makes the sporting experience and rivalry more enjoyable in Ace of Diamond and Blue Lock.
#6 Kuroko's Basketball
Number of Seasons: 3
Number of Episodes: 75
Studio: Production I.G
Teikou Middle School's basketball team dominated the sport nationwide with their team called the "Generation of Miracles," each player being a prodigy. Unfortunately, they went their separate ways in high school.
The Seirin High School basketball team was recruiting new members. Among others, they recruited Taiga Kagami, a natural born for the game of basketball, and Tetsuya Kuroko, who seemed to be the most unsuitable of them all.
However, they soon realize that Kuroko is the Phantom Sixth member of the "Generation of Miracles," who uses his lack of presence to take the opponents by surprise.
With the help of Kagami and the Seirin High School basketball team, Kuroko aims to win the highly competitive inter-high championship.
Why We Recommend:
In both Kuroko's Basketball and Blue Lock, the unique abilities of players are depicted as superpowers.
While the concept of ego is an important part of the storyline in Blue Lock, in Kuroko's Basketball, it's a battle of ego between the former members of "Generation of Miracles" and Kuroko. After all, it was their ego that broke apart the legendary basketball team.
Last but not least, if you loved high-octane football matches with unpredictable twists and turns in Blue Lock, you will love Kuroko's Basketball.
Soccer/Football Anime Like Blue Lock
#5 Hungry Heart: Wild Striker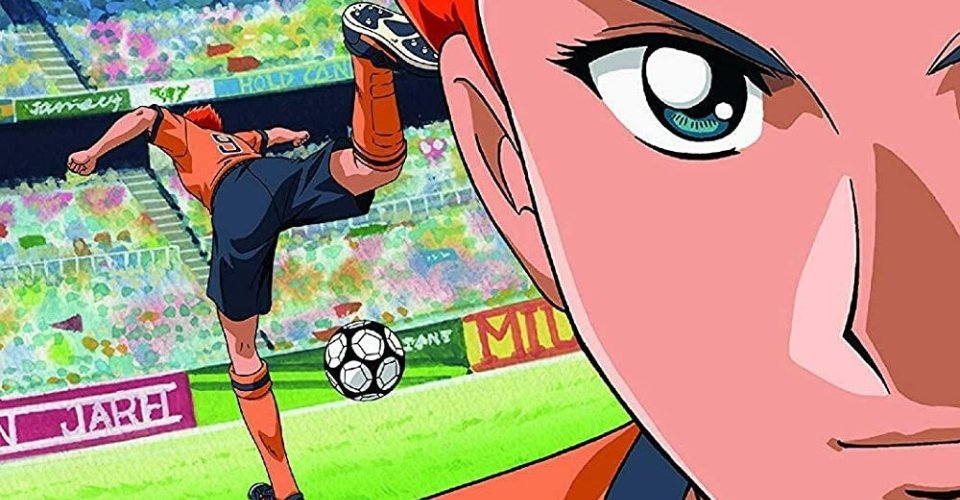 Number of Seasons: 1
Number of Episodes: 52
Studio: Nippon Animation
Kyousuke Kanou is the younger brother of Seisuke Kanou, the Japanese soccer star. Burdened with the tag of "Seisuke's brother," Kyousuke found it hard to meet the expectations that halted his growth as a soccer player.
After enrolling in Jouyou Akanegaoka High School, Kyousuke promises to never play football again, but talent doesn't go unseen for long. Miki Tsujiwaki, the girls' soccer team captain, notices Kyousuke's talent, and so does Mori Kazuto, the boys' soccer team manager.
Will Kyousuke join the team and pursue the dream of becoming the best striker in the world, or will he remain true to his promise of not playing the game of football again?
Why We Recommend:
The obvious similarity between Blue Lock and Hungry Heart: Wild Striker is that both are football anime.
Kyousuke Kanou's character is similar to Rin Itoshi's. Both are younger brothers to the prodigies of Japanese Football who play for professional leagues outside of Japan.
Kyousuke and Rin were both burdened by the expectations to become like Sesiuke and Sae. Now, the younger siblings strive to become the best in the world to surpass their prodigious elder brothers.
Aside from that, Isagi and Kyousuke work hard to become the best among the best, learning through their experience.
#4 Captain Tsubasa (2018)
Number of Seasons: 1
Number of Episodes: 52
Studio: David Production
For an average 11-year-old, football is a sport to play for fun, but for Tsubasa, his whole world revolves around soccer. Playing the sport from a very young age, Tsubasa knew that he would become a football player.
To achieve that dream, he moved to Nankatsu city, well known for its elementary school with well-renowned football teams. Upon reaching, Tsubasa realizes something.
Although he might have been the strongest in his hometown, in this school, he needs to work hard on his skills to be part of the playing eleven.
Besides encountering rivals, he finds friends who will support his dream of playing for Japan in the FIFA World Cup.
Note: If you love a fleshed-out story and appreciate the 80s & 90s aesthetics, I would recommend you to watch the original version of Captain Tsubasa (1983).
Number of Seasons: 4
Number of Episodes: 240
Studio: Tsuchida Productions, Nippon Animation, Studio Comet, Group TAC
Why We Recommend:
Both Captain Tsubasa and Blue Lock are football anime.
The protagonists of Captain Tsubasa and Blue Lock strive to play for Japan in World Cups. To do that, both join an academy that specializes in football training.
The hunger to win games on the world stage drives Tsubasa and Isagai to work harder than anyone else.
#3 Inazuma Eleven
Number of Seasons: 4
Number of Episodes: 268
Studio: OLM
Inazuma Eleven, the Football club of Raimon Middle School, is on the verge of disbandment. To save the club and bring it back to shape, Mamoru Endou, the captain and grandson of the first-generation Goalkeeper of Inazuma Eleven, take it upon himself to recruit new players.
Soon he finds hope in Shuuya Gouenji, a player who has lost hope in the game of football. But Mamoru is determined enough to do anything to make sure Shuuya joins the team besides finding other new recruits.
Why We Recommend:
Firstly, Inazuma Eleven and Blue Lock are football anime.
Secondly, no other football anime comes close to being similar to Blue Lock in showing unique abilities as superpowers, like Inazuma Eleven.
Besides these, if you love over-the-top sports anime, Inazuma Eleven and Blue Lock sit well together.
#2 Giant Killing
Number of Seasons: 1
Number of Episodes: 26
Studio: Studio Deen
Everything's going west for East Tokyo United (ETU) in Japan's prestigious soccer league.
From losing five matches on a trot to their fans abandoning them, the morale of East Tokyo United is at an all-time low. One poor decision after the other has led ETU to give their everything to avoid relegation.
However, Kousei Gotou, the general manager, brings back Takeshi Tatsumi as the new coach. He is a former player of ETU who is marked as a traitor by the fans for leaving the team abruptly.
But, the general manager insists on keeping him as a coach because he took a lower division amateur team in England to new heights.
Tatsumi is known as the Giant Killer, who can take down a team of skilled players with underdogs.
Why We Recommend:
The similarity between Giant Killing and Blue Lock is the coaches who strive to make the diamond in the rough shine. While both Takeshi and Jinpachi use extreme tactics like cornering players to show their current state and give a reality check, Jinpachi takes it a level further.
Both these football anime showcase football techniques in detail.
The protagonists in Blue Lock and Giant Killing have low self-esteem at the beginning. But with every match, they overcome their weaknesses with sheer willpower and hard training.
#1 Ao Ashi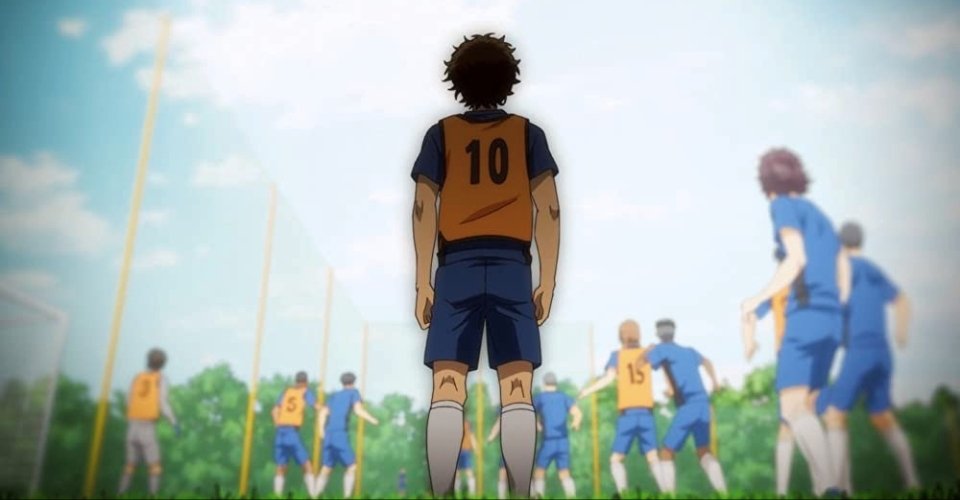 Number of Seasons: 1
Number of Episodes: 24
Studio: Production I.G
Ashito Aoi dreams of getting into a high school with a respected soccer club. As the most skilled player on his junior high team, his play is self-centered and unpredictable.
However, when provoked during a crucial match, he headbutts an opposition player and gets removed from the match.
Thus, losing the crucial game.
However, he gets scouted by Tatsuya Fukuda, the coach of one of the strongest teams in the J.League. He shares his ambition of making a team to compete on the world stage and invites Ashito for the tryouts in Tokyo. In Tokyo, Ashito finds himself surrounded by players who exceed him in almost all aspects of football.
Why We Recommend:
The protagonists of Ao Ashi (Ashito Aoi)and Blue Lock (Yoichi Isagi) are on a journey of self-discovery and realizing their true potential.
Both Ashito and Isagi's strongest weapons on the field are their spatial awareness. On top of that, Ashito and Isagi possess excellent vision, known as Eagle Eye and Meta Vision, respectively.
Ashito and Isagi want to play football on the world stage. In both Ao Ashi and Blue Lock, the goal is to create the strongest team in the world while honing individual skills.
Ao Ashi and Blue Lock depict the cutthroat world of football.
Best Soccer Anime: 15 Football Anime You Should Watch Right Now

Fans Also Read
Here is the table of the best anime like Blue Lock, along with the honorable mentions that didn't make it onto the list but are worth watching.
And, for the indecisive ones like me, you can use the AverageBeing Picks for a better idea of where to start after diving into the list of anime like Blue Lock.
All Anime Like Blue Lock Recommendations
| | | | |
| --- | --- | --- | --- |
| Anime | Episodes | Seasons | Averagebeing Picks |
| Ao Ashi | 24 | 1 | Above Average |
| Giant Killing | 26 | 1 | Above Average |
| Inazuma Eleven | 268 | 4 | Average |
| Captain Tsubasa | 52 | 1 | Average |
| Hungry Heart: Wild Striker | 52 | 1 | Average |
| Kuroko's Basketball | 75 | 3 | Above Average |
| Ace of Diamond | 178 | 3 | Above Average |
| Haikyuu!! | 85 | 4 | Above Average |
| One Outs | 25 | 1 | Above Average |
| Eyeshield 21 | 145 | 1 | Average |
| Food Wars! Shokugeki no Soma | 86 | 5 | Above Average |
| Classroom of Elite | 25 | 3 | Above Average |
| Kakegurui | 24 | 2 | Below Average |
| Kaiji: Ultimate Survivor | 52 | 2 | Above Average |
| Tomodachi Game | 12 | 1 | Average |
| World Trigger | 99 | 3 | Average |
| Whistle! | 39 | 1 | Average |
| The Knight in the Area | 37 | 1 | Below Average |
| Days | 24 | 1 | Average |
| Gantz | 26 | 2 | Below Average |
I hope you find at least a couple of anime to add to your watchlist and enjoy them at your convenience. If you have any feedback, suggestion, or correction regarding the article, feel free to reach out to averagebeing.com 's Instagram handle.